Easterseals Has The Answers You Need
|
By Natalie Scott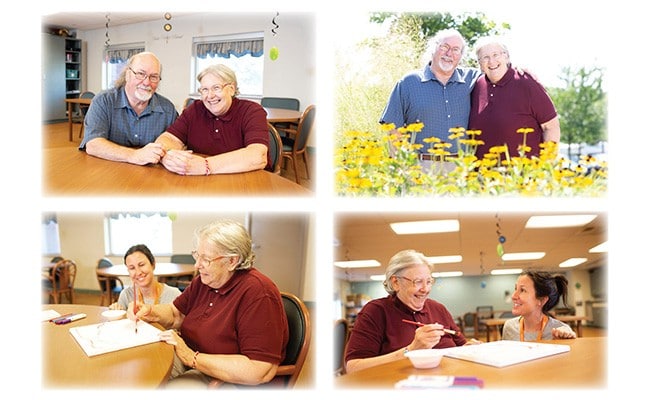 Jack knew something was not right when he and his wife, Jackie, were driving home from the store one day and, suddenly, Jackie did not know where she was going. Jackie was later diagnosed with Alzheimer's disease, confirming his suspicion. After traveling the path of a caregiver alone for a while, Jack turned to Easterseals for the help he was seeking and the socialization Jackie needed.
"Jackie is no longer able to be left alone. With Easterseals, I do not have to worry. She is with people I trust. It is a comforting feeling to know she is in good hands," Jack says. "Jackie enjoys the people there and loves interacting with them. Jackie is all smiles when she leaves Easterseals. That is the most important aspect."
Easterseals adult day care services provide support for adults, young and old, who have experienced a disabling condition such as Multiple Sclerosis, stroke, brain injury, other physical limitations and conditions of aging. Meals are provided. The program provides a break from caregiving for families or those who work and have other responsibilities. 
Jackie spends several days a week at the Easterseals day program for aging adults and those with disabilities. Not only is Jackie able to remain active in the community, she is also becoming more flexible through the exercise program Easterseals provides, making it easier for her to walk up stairs and perform other physically demanding tasks.
"Easterseals offers a broader opportunity for their participants to thrive. Their programs provide mental stimulation. Jackie is doing something she is proud of," Jack says. "While Jackie is at Easterseals, I am able to rejuvenate and prepare for her return. It is a mental refreshment."
A full-time nurse provides medical support including monitoring of blood pressure and blood sugar, coordinating with physician offices and arranging appointments. The nurse acts as a liaison between participant families, case managers and other health care providers. If needed, physical, occupational and speech therapies also are available on site through Easterseals, and can be added to the individual's personal care plan. In addition, trained staff are able to help all participants with activities of daily living and personal needs.
"Caregiving is a learning process. Readjusting our life has been difficult. I am still learning how to deal with my changing circumstances," Jack says. "Everyone I have met at Easterseals is caring, professional and knowledgeable. They have a sincere concern for their participants. It takes a considerable amount of skill to do what they do."
Like all Easterseals services, adult day care services are comprehensive and individualized to meet each client's needs, family-focused to meet each family member's concerns and have the goal of enhanced independence. The adult day care program offers a break for family caregivers responsible for a relative who is unable to function independently, but does not require 24-hour nursing care. For more information about Easterseals Adult Day Care Services contact Maggie Webb 302-324-4444 or [email protected].
Nationally, Easterseals is celebrating 100 years of exceptional services for people with disabilities.
Easterseals Kent County center is located at 100 Enterprise Place, Suite 1, Dover, DE 19904
Easterseals in New Castle County is located at 61 Corporate Circle, New Castle, DE 19720
Please visit our website and see all of our services for people of all ages and abilities: www.de.easterseals.com