Clear Your Acne Without Prescriptions Or Lasers
|
By Erica Suppa, B.S., L.E.
Have you tried everything to get rid of your acne without any success? Acne can be very frustrating to deal with and you don't necessarily need a lot of products or treatments to help get you clear.
Fresh Faced Skin Care specializes in acne and uses custom formulated products and treatments that will clear your skin within six months. There is absolutely no need for prescription medication or lasers to clear acne or acne scars.
Fresh Faced Skin Care has a 97% success rate on clearing acne and acne scarring. Schedule your appointment today and get the clear, smooth skin you've been searching for.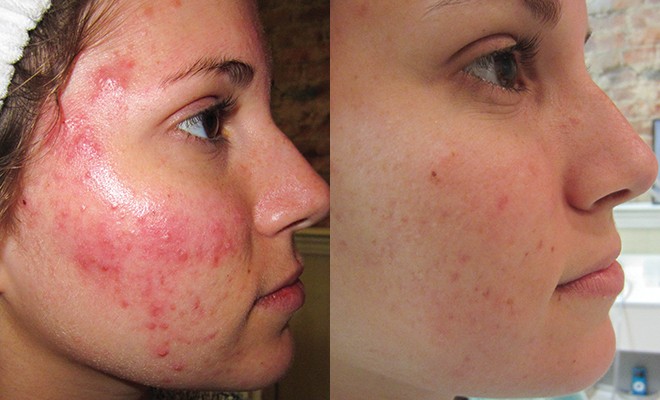 Amazing service, products, and advice! Erica really knows her stuff and is a voice of reason in a saturated and over crowded market. ~ Lillian
Erica's science background allows her to approach skin care from a perspective not often found in this industry. She is a knowledgeable provider of no nonsense therapies that work to improve your skin. ~ Rachel
I immediately felt like I was in good hands.
Erica has a calming personality which does not over shadow the fact that she is extremely knowledgeable about her craft. Not to mention that I saw results! After one visit! Now, my acne AND scarring are being managed. Together! Not only are the scars that have frustrated me most of my adult life fading, it's just in time for my November wedding.  ~ Courtney
Erica Suppa is the owner of Fresh Faced Skin Care, an advanced skin care clinic with locations in Chadds Ford, PA and in Historic New Castle, DE. 
Erica has more than a decade of experience in the healthcare industry as an esthetician, skin care expert, and research scientist. She offers a unique approach to skin care by utilizing her scientific knowledge of skin care ingredients and how they interact with the skin to achieve phenomenal, lasting results her clients have been searching for. 
Two Locations To Serve You:
204 Delaware Street, Unit C, New Castle, DE 19720
2417 Silverside Road, Wilmington, DE 19810
Call 302-689-3223 for an appointment or visit www.freshfacedskincare.com for more information.