Bridal Issue 2013!
|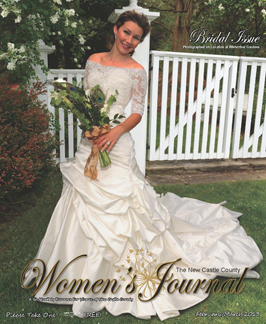 Our Wedding…
Thank You To All Our Vendors And Participants!
All photos were shot on location at the Winterthur Museum, founded by Henry Francis du Pont.
Acres of grounds, picturesque gardens, made the possibilities endless and the hospitality of the staff was a wonderful experience.  Please visit their web site at www.winterthurweddings.com.
My youngest daughter Heather Shafer was gracious enough to be my bridal model for the shoot.
Heather is wearing a gorgeous gown from Anastasia's Bridal Salon, Wilmington, DE  19803. It is unbelievable that this gown came straight off the shelf.  Luba Crawley picked a gown and the bridesmaid dress for the shoot, and I was totally impressed that Luba picked a perfect gown suited for the petite bride, and the grandeur of Winterthur.
The beautiful elegant mother of the bride dress was provided by Lady's Image, located at 3910 Concord Pike, Wilmington, DE. Our model Pamela Rizzo,  is publisher of the Women's Journal.
Masha Kohi, makeup artist, and hair stylist was our bridesmaid model wearing a beautiful champagne full-length gown from Anastasia's Bridal Salon.
Belak Flowers, located at 832 Philadelphia Pike, Wilmington, DE, 302-762-5000 provided all the flowers for our shoot. Barbara Williams perfectly matched the flowers to suit the dress and the location.
Delaware Jewelry Exchange, located at 4001 Kennett Pike, Greenville, DE, provided all jewelry for the shoot. Each piece was gorgeous one of a kind estate jewelry, hand picked by the owners, and perfect as well.
A special thank you to Matthew's Formal Wear and Tailors, located at 1810 West 4th St., Wilmington, DE  19805, 302-654-4853.  Matthew's provided the perfect tux for our handsome groom model Bob Diamond, who is wearing a trim looking tux that fit like a glove.
Most people never know how much work and energy goes in to one of our shoots, unless they participate in one, or if they are the people helping to pull it all together.  And you can see from some of the extra photos we indeed have a lot of fun as well. Hair and makeup were provided by J. Christian Hair Salon an award-winning, upscale salon located at 7465 Lancaster Pike, Hockessin, DE  19707; for more information call 302-325-2306.
Roy McDowell of Royal Photography provided all photography work.  Royal Photography is located at 3646 Silverside Rd., Wilmington, DE  19810, for more information call 302-478-1809.  Without all of these wonderful people none of our photo shoots would be possible.  Thank you for your hard work and dedication to the Women's Journal.