Botox and Lasers and Scanners – OH MY!
|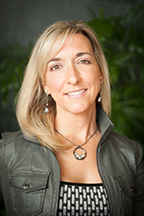 By Laura Dougherty, D.D.S.
Dentistry innovations will make your trips to the dentist more positive and enjoyable. 
Who hasn't heard "I hate going to the dentist"? Whether it's the noise, the gooey impressions, or the uncomfortable x-rays — over the years dentistry has not been a positive experience for most. Does this sound familiar? I'm happy to say- the future is here! All around us, technology is improving and making life easier, and the same is true for your dental office!
As a general dentist, one of the most rewarding parts of what I do is when a patient says "Wow! That was such an easy appointment," or "I can't believe I fell asleep!". For the anxious dental patients reading this- I know you think it's too good to be true! But there are so many advances to keep you comfortable now- between nitrous oxide, aromatherapy, headphones, television, or even blankets and pillows to keep your time in the chair as pleasant as possible.
Virtual cosmetic consultations are perfect for patients that are on the go! While remaining in the comfort of your own home or office, you can now video chat with the dentist and find out what options are available for you. Instead of taking time off work, you already have an idea of what treatment is recommended and what it might cost before you even drive to the office. 
Many patients don't have the time to spend hours at the dentist and are looking to kill two birds with one stone. As a busy working mom myself, I completely relate! This is why most offices offer quick Botox appointments that can easily be done at your six month checkup, or even on your lunch break. In addition to quick appointments, many offices are now offering extended hours for those busy families that have too much going on during the day. Busy moms juggling work, soccer practice, and grocery shopping- we're looking out for you!
When you are in the office for procedures, we understand how valuable your time is. That time consuming impression goop that you remember from crowns, night guards, and invisalign is a thing of the past! Digital scanners have taken over and with the pass of a wand, a mold of your teeth is recorded. Not only is this quicker and easier for the patient, but the accuracy of them is beyond compare.
Lasers are another innovation that have changed dentistry as we know it. While lasers have been used for years in medical practices, they have only recently been brought into dental offices. A dental laser can now be used to drill teeth and perform gum surgery while being perfectly safe and extremely precise.
Let's not forget about those uncomfortable x-rays that are always recommended. That bulky sharp object has now been replaced with a digital alternative. These digital x-rays are essential for discovering hidden abnormalities and detecting decay not visible to the naked eye. In addition to being more accurate, the exposure is also very minimal- a win-win for both the doctor and patient. 
Working moms, busy families, and anxious patients- don't worry! Technology is advancing all around us, and your dental office is no exception. These new innovations to dentistry are advancing daily and will only make your trips to the dentist more positive and enjoyable. In the near future, the phrase "I hate going to the dentist!" will be a thing of the past! For more information call 302-475-3270 or visit DoughertyDentalSolutions.com
Bio
Born and raised in Delaware's Sussex County, "Dr. D" earned a Bachelor of Arts degree in Biology from the University of Delaware in 2001 before going on to study dentistry at the University of Maryland's Baltimore College of Dental Surgery, achieving her Doctorate of Dental Surgery degree in 2006. After completing her General Practice Residency with the Christiana Care Dental Residency Program, she went into private practice for 11 years prior to opening Dougherty Dental Solutions in 2018. Dr. Dougherty has been named Top Dentist for three years in a row, taking pride in restoring and maintain her patients' smiles. 
Testimonials
"Dr. D is awesome! Dr. Dougherty has been our Dentist for 8 years and the first day we walked into her office we knew she would be our Dentist forever. She is kind, gentle, caring, and most of all knowledgeable. Her office staff is outstanding! If I could give Dr. D and Lucy 10 stars it wouldn't be enough."  ~ Suzy S.
"Dr. D has been my dentist for several years. She has always been able to correct my dental concerns, painlessly and compassionately. I am very grateful for the care she and her staff have provided. Keep up the good work Dr. D & staff!" ~ Sandra, L