Beauty Builds Community- Celebrating 15 Years Of Transformation
|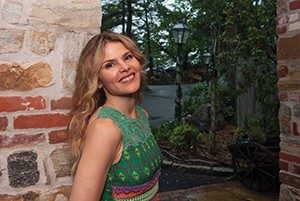 By Christine D'Alonzo, Owner
In the beginning, I set out with the intention to cultivate true, natural beauty in body, mind, & spirit. Here we are – a decade later and Amelia Paris Salon has become a safe haven for so many. It's a place to hold sacred space for each other, where genuine connections are made and strong community is built. We come together because we believe in natural solutions to modern imbalances. 
Sitting in my chair every day is a beautiful soul that I am blessed to do my art on. Any of these souls could be you. Our community. Over the years our clients have built who we are. Every decoration in this salon was a gift from the community to be shared by others. From art on the walls to some creative creation, or even in the stories we tell each other behind the chair. You share your wisdom with me and each person in our salon family. 
My client, horse trainer, & friend Carrie said to me the other day, "You know, beauty is as beauty does." She was, of course, referring to a gorgeous horse she was training but those words connected me to my brand, to the essence of what Amelia Paris means to me. Carrie @CoveyRunEventing inspired this story of connecting beauty with action.
Next my business coach, Kathie Iannuzzi @Fromwithin.love has been teaching me how to connect with my community. She helped me get crystal clear in my vision for the future of natural beauty in our salon. Kathie tapped into my potential to fine-tune my brand: Beauty in Body, Mind, & Spirit. I cultivated a selection of natural remedies based on ancestral knowledge, as well as art, technical skills, self-care, yoga therapy, workshops on tools for inner peace, self-realization, and healing, & a whole lotta prayer! Once I was clear on who I was, I continued to get connected to other souls in this life who share a similar journey.
This led me to Nani Shin @WETribe1 on IG. Kathie connected us, recognizing our shared passion, and ever since it has been a bad ass love connection! Nani is a media brand consultant who, in the midst of endless business travel and managing children's schedules, longed for a meaningful connection with other like-minded women.
From this desire, WETribe was born as a way to create purposeful gatherings with friends which included some self-care components along with a shared meal. "WE is an acronym for all that we are as women; Women Empower, Encourage, Enlighten, Entertain, etc. Women are all of these things and more, which is why it's important to refuel and refill so we can continue to contribute," said Nani at our Personal Branding Workshop on Authenticity online & in life. Taking time for self-care, personal and professional development, and most importantly, to provide a safe space to grow, connect and support each other is what it's all about.
Nani and I started to cook up a pot of Magic. When I listened to her passion of connecting women, her love of learning, sharing and supporting her community with her vibe of love, I knew we could think up ways "to grow, empower, reset, recharge" (Nani's vision), other loving souls in a beautiful kind way. The workshop filled the salon after hours, and talked about how to birth your brand. Since I just gave birth to mine, I was happy to share the secrets of the process. 
It is the connection of all these people in the community which makes us all one. One bigger force toward self-awakening, unified by a love for the earth & the people who live in it. Every single person who walks through our doors contributes to this magic. It is your inspiration that makes us award-winning, those 4.9 out of 5 stars are your reviews, it's your referrals that make us a success! We would like to thank you, our beautiful community for these 15 years & those to come.
With Love, Christine D'Alonzo
Check out our brand new website: www.amelia-paris.com for more information on wellness workshops! You will feel our holistic touch to hair, skin, body, mind, spirit and community Read blogs on healthy habits, nutrition for hair, & community enlightenment like this story!
Testimonials
"I am completely sold after one visit. Every single person is cheerful and friendly, loved my haircut and am going back soon for color. Can't think of anything that could be improved!"
"The amount of care and consideration the staff have for their clients is unprecedented. I had my hair cut and color by the owner Christine, and a facial done by the amazing esthetician Jordan. The time spent with them was like time with old friends. They get to know you, really know you. And they make your time there seem like time away from all your worries or troubles. My hair cut and color was done perfectly, and my facial was relaxing and detoxing. Christine massaged my BRAIN. After a long week, it was exactly what I needed to regroup. Anyone there is amazingly capable and the customer service was fantastic. No better place in the area.Stop googling… this is where you want to go."
Call 610-558-4911 or visit www.amelia-paris.com