Are You Secure? Time For A Cyber Check-Up!
|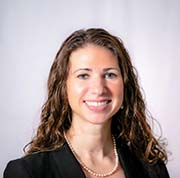 By Jaclyn Quinn, Esq.
Delaware Community Reinvestment Action Council, Inc.
At DCRAC Law, we primarily assist individuals and families with estate planning and tax controversies. In doing this work, we come across frauds and scams more often than we'd like. While some schemes target older adults, no one is safe from the bad actors lurking online and in our data. Here are five ways to keep your personal information safe. Use these tips to give yourself a cyber check-up to make sure everything is as expected. 
1. Review your annual credit report 
Everyone is entitled to one free credit report annual from each of the three credit bureaus. You can go online to annualcreditreport.com to request these reports. Checking your credit report is an important step in making sure your information is safe. If someone opened a credit card or used your address without your authorization, you would likely find evidence of this on your credit report. Some people subscribe to credit monitoring services for extra peace of mind when it comes to the credit report, so they receive a notification anytime a change occurs. It is important to take action as soon as you realize there is an issue with your personal information. 
2. Keep your devices password protected and enroll in "find my phone"
If someone found your phone on a park bench, what would they be able to do with it? What would they learn about you? These are good questions to ask yourself! Protect your devices to the best of your ability. Our phones and tablets are highly mobile, thus adding to risk of loss. Using a password or other verification such as fingerprint could help to safeguard your device. Likewise, having the ability to track the location of your phone or to disable your tablet remotely if lost could prove to be a very helpful feature if you find yourself looking for your device. 
3. Check on your documents
It is recommended to have a dedicated place to store important paperwork at home. Perhaps you have a locked filing cabinet, safe, or fireproof box. At least once a year, go through your documents to ensure that you have put the necessary documents aside, and make sure they are in a secure location. Having important documents such as tax documents or mortgage statements out in the open could put you at risk of identity theft, especially if you have people coming and going from your home. In addition, this is a helpful practice so that you know exactly where everything is—something we discuss with our estate planning clients all the time. 
4. Review your online passwords
We all have 101 accounts and passwords floating around our brains. One good way to organize this information is to use a password management service on your phone or computer to store all your user IDs and passwords securely. Check to make sure your passwords are strong enough. A strong password has uppercase and lowercase letters, avoids common patterns and words (such as Password123) and should contain special characters. To go a step further, avoid dictionary words. We should also use unique passwords, rather than reusing old ones. If you are using Password123, this is your reminder to upgrade and secure your account. 
5. Use spam filtering and open email with caution
As technology evolves, so do the scammers. Phishing scams are extremely common – you receive a link in an email or text, which appears legitimate, so you click. Wrong! Now you just gave a scam artist a pathway into your personal information. Be very skeptical if an email doesn't look right or seems out of place. Always err on the side of caution. You can do things such as call the sender, delete the email, or report the email as spam, scam, or phishing through your email provider. If you don't recognize a text, or you receive a shipping update and you were not expecting an order, err on the side of caution and delete it. 
Lastly, if you find evidence of fraud, contact the Delaware Department of Justice, Division of Fraud and Consumer Protection at 302-577-8600.
If you are in need of legal advice, we are here to assist you. Jaclyn Quinn is licensed to practice law in Delaware. For more information, or to schedule a consultation, please call 302-298-3251 or email Jaclyn at [email protected]. For more information, visit www.dcrac.org.
Bio
Jaclyn Quinn, Esq. joined the Delaware Community Reinvestment Action Council (DCRAC) in 2011, first as a volunteer, then as staff. In 2014 Jaclyn opened and grew her private practice until 2019, when DCRAC Law opened to the community. DCRAC Law is a nonprofit law firm providing tax, title, and other legal services to those unable to pay market rates. 
Jaclyn graduated with a B.A. in Political Science from The College of New Jersey before moving to Delaware to pursue her J.D. at Widener University- Delaware Law School. She was admitted to the Delaware Bar in 2012, and is also barred in U.S. Tax Court and U.S. Immigration Court. She has volunteered with the Office of the Child Advocate, DVLS, and assists as pro bono counsel in a variety of cases. Jaclyn is a member of the Howard High School Academy of Finance Advisory Board.