Are You Feeling Too Stressed To Spa?
|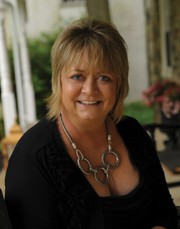 By Joanne Graves,  Owner of Sanctuary Spa
I love the spa industry. I know it sounds like a pretty obvious statement but, I didn't purposely go into this business; I sort of 'fell into it". As a matter of fact, until I got into the business back in the '90s, I knew virtually nothing about what a spa was, or what they even did. I had a friend who convinced me that I'd be 'great!' at selling cosmetics at home parties. As it turns out, she was dead wrong, and I ended up owning more products than everyone I knew at the time could use in their lifetimes. Around that same time, a new esthetics' school opened in Delaware, and I thought if I got a formal education about the products stockpiled in my living room, people would inevitably line up at my front door to buy their cosmetics and skin care from this newly trained Esthetician who was eager to share her new-found wealth of knowledge!
As I'm sure you've already guessed, I never did get the big pink car, but what I did get, along with a great education, was a passion for the treatments, and how they made me look and feel. I couldn't believe there was an entire industry in which I would be able to make a living helping other women and men feel this good. It's one of the reason's I love this industry. Most of the people I've had the privilege to work with got into the spa business because they love to help people feel and look better about themselves. I can't imagine working in a more rewarding field.
As a spa owner, who loves a spa treatment myself, nothing is more disheartening to methan having a woman say to me, "I'd love to have a massage. I just need to lose 10 pounds", or, "I've always wanted to go to a spa, but I'd be tooembarrassed". As a seasoned spa professional, please let me alleviate those concerns. I know the value of making time for the spa. There are more benefits of having a spa treatment than I can list here.
Most of us got into this profession because we love to make others feel good. Sure, I've been to places where the model-esque, negative body-fat, incredibly young therapist can make even the most confident of us go weak in the knees at the thought of them seeing any part of my average looking body. Frankly, many of us in the industry have the same insecurities about our less than 'perfect' figures. The spa is, or should be, a 'no judgment' zone. Spa professionals are trained specifically to treat each guest with respect and care. We properly drape our clients to preserve your modesty and ensure that you're comfortable, so that you receive the most benefit from your treatment. Our goal is for you to leave the spa feeling better than when you walked in, and looking forward to your next visit.
If you're still not convinced, stop in and ask for a tour. We love to show potential guests around our spa to give you the opportunity to get a feel for the spa and the people who work there. You won't believe what you've been missing. I promise, you'll thank me!