Although The Weather's Chilly, Things Are Heating Up At The CDCC
|
February 16, 2017 – The Young Professional's Conference. 11am-5pm
A young professional is not necessarily defined by age but by how long one has been on a career path. You are a young professional if you are just out of school or have just started a new career. So, are you a young professional looking to expand your knowledge?
The Young Professional's Conference will provide you with an educational forum to grow both personally & professionally. Attendees will have an opportunity to attend seminars pertaining to what's relevant for them. The Conference is being held at Dover Downs® Hotel & Casino. Local colleges joining us as collegiate sponsors for the Young Professional's Conference are Delaware State University, Delaware Technical Community College, and Wesley College. Join us for an amazing and informational day!
March 2017– The Annual CDCC Legislative Luncheon
You're invited to meet Kent County Senators and Representatives at The Legislative Luncheon. A panel of legislators will be answering a series of questions prepared by Kent County business leaders. There is also an opportunity for members to talk with legislators in an open forum. Topics selected are business-related so be sure to attend to gain insight on important matters happening in Kent County!
The luncheon will be held from 11:30 a.m. to 1:30 p.m. in March, date to be determined.Thank you to our signature sponsor of the event BIG Investment Services and our platinum sponsors: Chesapeake Utilities Corporation, Dover Federal Credit Union, Harrington Raceway & Casino, i.g. Burton & Company, L & W Insurance, Kraft Heinz Company, and R & R Commercial Realty. Reservations can be made by calling the Chamber office at (302) 734-7513 or by emailing [email protected]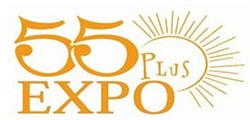 April 18, 2017 –
9:00 a.m. – 4:00 p.m. at Dover Downs® Hotel & Casino
With over 5,000 people in attendance, you will have a great opportunity to acquire new customers and clients by promoting your organization's products, services and information.
Don't miss this opportunity to promote your business to Delaware's fastest growing population –
the 55+ population!
There will be over 100 vendors, a cooking show, a wellness center with free health screenings, a volunteer fair, live entertainment, and so much more!
Back again this year, the 55+ Expo will have a Caregivers' Support Center, brought to you by Nurse Next Door! This area will be packed full of important information you need to take care of your loved ones. Caregivers have a multitude of responsibilities ranging from preparing food, to administering medications, assisting with basic needs, and the list goes on.
This support center can give you amazing advice and expertise to help you. Participating businesses include: AARP Delaware, Heritage at Dover/Genesis Healthcare, Law Offices of Bonnie M. Benson, PA, and the Modern Maturity Center Caregiver Resource Center. From 1pm-2pm attendees are able to participate in a Caregiving Advocacy Workshop for free, one you won't want to miss.
A complete list of exhibitors and a schedule of events and seminars will be available in March so be sure to visit cdcc.net/55plus for more information! Thank you to our event sponsors (as of Dec. 1st): Bayhealth Medical Center, Dover Post, Eden Hill Medical Center, Kent County/Dover MPO with DART, DelDot, and DMV, Nobles Pond, and Nurse Next Door.
www.cdcc.net  •  302.734.7513
email:  [email protected]