4th Quarter People In Profile
|
(click on magazine above to view flip-thru version)
Janelle Antonio PT, DPT, CLT, PCES
Janelle is a Delaware native, growing up in the small town of Greenwood in Sussex County. After completing her Bachelors at the University of Delaware in 2001, she stayed in New Castle County, where most of her extended family resides. After a short career with MBNA, she returned to the University of Delaware for her Doctorate of Physical Therapy, graduating in 2007. Janelle's love for physical therapy started as a patient herself; appreciative and amazed that the physical touch and skills of her therapist, along with exercise, helped to alleviate her pain. She now enjoys bringing the same relief to others.
Initially, Janelle's career started in an outpatient orthopedics clinic honing manual skills for deep tissue work, myofascial release, craniosacral work and releasing joint restrictions, becoming an Orthopedic Certified Specialist in 2009. Janelle's journey then led to working at Specialty Rehabilitation in the Helen F. Graham Cancer Center, working primarily with breast, and head & neck cancer patients, with a focus on shoulder dysfunction and lymphedema management.
Janelle has built a private practice around helping women feel in control of their bodies, and feel their best. She places great importance on providing both hands on manual techniques in addition to therapeutic exercise for each patient, in a one-on-one setting. She finds that pain and dysfunction are rarely isolated to just the area in which your body feels it, and assesses the full body.
In addition to lymphedema management and post operative rehabilitation, Janelle also specializes in pelvic floor physical therapy. Her hope is that the narrative continues to change, that women no longer accept incontinence and pain as the norm and seek help. In addition, she hopes the same awareness is brought about for children who are struggling with daytime leakage, constipation and bedwetting.
When not working, Janelle enjoys spending time with her husband and 7-year-old twins. Their activities are ever changing and she enjoys watching them experience new endeavors!
Lotus Rehabilitation      302-598-8592      www.lotus-rehab.com      [email protected]
226 West Park Place, Suite 12, Newark, DE
Melissa Moulder-Condit, Founder
As they say, the apple doesn't fall from the tree. My Mom was a big influence on me being a massage therapist. I was 12 when she stepped into the wellness industry. Her holistic approach with our lifestyle led me on my journey.
My career began in 2002 when I became certified in massage. Wanting to offer more to my clients, in 2006 I received my advance esthetician certification. Over the years I acquired certifications in many modalities; prenatal, Swedish, deep tissue, La Stone Therapy (hot stone massage), manual lymphatic drainage, craniosacral, reiki, waxing, body treatments and many others. I exclusively use Eminence Organic Skin Care for my facials and body scrubs.
I have worked in many day spas from Northern Delaware to Rehoboth Beach. This led me to wanting a more personal and hands on approach, which fueled my dream of one day opening my own business. Being able to have a flexible schedule so I could be a present mom for my daughters was a huge driving force. In 2019, I started working towards building my own practice. Now one year into expanding to a larger office; I have a beautiful, tranquil and peaceful space with a growing clientele. 
Helping others has always been a deep passion of mine. Creating a space where people can have a moment of relaxation in the crazy everyday hustle is why I love my job. I am grateful to work in a mind, body, and spirit conscious field.
My own daughters say they want to do massage and facials one day. So, who knows… We may have a three generations wellness center one day!
Now married to my Husband, Eric, and gaining two additional daughters (yes, four girls in total), I strive to encourage our family to live a healthier and more natural lifestyle.
Intuitive Wellness LLC      302-293-7240      www.IntuitiveWellnessDe.com 
2006 Foulk Road Office Park, Suite F, Wilmington, DE
Cheryl Denick
Cheryl Denick MD, JD, FAAEM, FCLM is a lifelong student and world traveler who is honored and proud to serve as the Medical Director of the Delaware Hospice Inpatient Unit at Saint Francis Hospital in Wilmington, Delaware. Born and raised in Northern New Jersey, Dr. Denick relocated to Philadelphia in the mid-1980s to attend Temple Medical School and has worked in and around the City of Philadelphia ever since. She is a 1993 graduate of the Emergency Medicine residency at what is now known as Christiana Care. 
After 20 years in practice and experiencing the deaths of her own parents, Dr. Denick wanted to find a better way to help support patients and their caregivers as the end of life approached. The evening she learned that Emergency Medicine trained physicians could become board certified after a fellowship in Hospice and Palliative Medicine (HPM), she realized she found the way. Several months later, she began her yearlong HPM fellowship at the Virginia Commonwealth University, Massey Cancer Center.  She is board certified in both Emergency Medicine and Hospice and Palliative Medicine.
During her healthcare journey, Dr. Denick returned to Temple to study law. She graduated from Temple Law School in 2007. Later that year, she was admitted to the Pennsylvania Bar.  She has found that the study of the Law has helped her understanding of health care systems, regulations and has made her a better doctor. 
In her spare time, Dr. Denick can be found at the beach, on, in or under the water, or happily in her kitchen trying new recipes. She plays a fierce game of Scrabble and is currently on a quest to experience the world's best roller coasters, an ever-changing and expanding goal.
Phone  302-599-0410      Fax 302-599-0411     [email protected]
Carmella Davies, SPCP, FAAM
Carmella is double Board Certified by both The American Academy of Micropigmentation and The Society of Permanent Cosmetic Professional. She is also a Lifetime Member of the SPCP. Dedicated to Permanent Cosmetics since 1999, she has performed thousands of procedures and maintains a very solid and loyal client base. Her love and knowledge of the beauty industry shows in every procedure.
Not only is she considered THE authority on Permanent Cosmetics in the Delaware Valley, her impressive portfolio has drawn clientele from distant cities, as one's face tells all. Dozens of qualified physicians, salon owners, stylists and aestheticians trust Carmella and refer their clients daily. Her artistry has been featured in many publications due to her notoriety.
The Permanent Cosmetic & Lash Studio     610-883-0636 (text for faster response)
www.permanentu.com      [email protected]
140 Commons Court, Suite 140, Chadds Ford, PA
Thank You To Our Location
We would like to thank The Inn at Montchanin Village for hosting our fourth photoshoot. Listed on the National Historic Register, it was once a part of the Winterthur Estate and was named for Alexandria de Montchanin, grandmother of the founder of the DuPont Company.
In eleven carefully restored buildings dating from 1799, there are 28 richly furnished guest rooms/suites appointed with period and reproduction furniture and marble baths with all the amenities a demanding and sophisticated traveler would desire.
The Inn at Montchanin Village & Spa      www.montchanin.com       
302-269-2473      528 Montchanin Road in Wilmington
Thank You To Our Photographer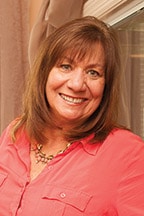 I would like to thank Debra Zeccola of Debra Zeccola Photography of Newark, DE for being our photographer for our profiles and covers photoshoot. Debra has over 28 years of experience as a licensed professional photographer. Debra provides her clients with outstanding photography services for weddings and events, family and individual portraits, baby photos ,and so much more. Debra is a joy to work with, and I couldn't ask for a more professional photographer than Debra.
Debra Zeccola Photography     302-540-5800
[email protected]      www.debrazeccolaphotography.com