Trends: What's Happening In Hair In 2023
|
While we can't all be a celebrity, we can at least look like one with the latest hair trends for 2023. Whether it's the cut, the color, or the style, our expert stylists at Fusion Salon can help transform your look to the latest trends in Hollywood hair and the fashion runways. Ladies, let's turn some heads this season!
THE CUT
The Clavi Cut – Can't choose between long and short hair? This cut may be for you. The hair extends exactly to the collarbone and the front section of hair is usually a little longer than on the back of the head. This cut suits absolutely every woman and perfectly flatters every face shape. As if that wasn't enough, this trendy hairstyle is perfect for both fine and thick hair. 
The Blunt Cut – No edges, no steps and the hair accurately cut to one length. The blunt cut is suitable for everyday use and is a timeless classic. Due to the accurate cut, the look suits absolutely every woman and makes the face appear optically narrower. Women with thin and fine hair in particular can look forward to the new hairstyle trend because the cutting
technique conjures up more volume and fullness in no time at all. 
The Micro Bob – The hair either extends to the cheekbones or to chin level. The micro bob actually looks perfect on every woman and can be styled in an incredibly versatile manner and can be combined with curtain bangs or a ponytail. This short haircut looks particularly good on women with elongated, narrow and oval faces and gives more body and volume in no time at all.
THE COLOR
Dirty Blonde Baby – Ditch the look of glossy blonde blowouts for the messy muse look of tangled blonde locks, often with a few caramel hues thrown in as highlights.
Brunette Power – The monochromatic look is taking off, featuring dark tones without dimension.
Redder Is Better – From strawberry blonde to deep copper, this hair color trend of red seems to be catching flame. 
Pastel Touches – With fashion hair colors being more muted this season, go with a more subtle use of pastel tones. 
THE STYLE
Single Hair Clip – Instead of stringing together umpteen glittering hair clips, we are again relying on a single statement piece in our hair. Consider one accessory for each hairstyle, nothing more. 
Middle Parting – Super chic, elegant and simply timeless. And when it comes to styling, you have numerous options to choose from.
Romantic Braids – Popular for centuries, given that it is easy to style and perfect for keeping your hair in place for long periods of time. Look strict, sporty, romantic or playful. Basically, anything is possible.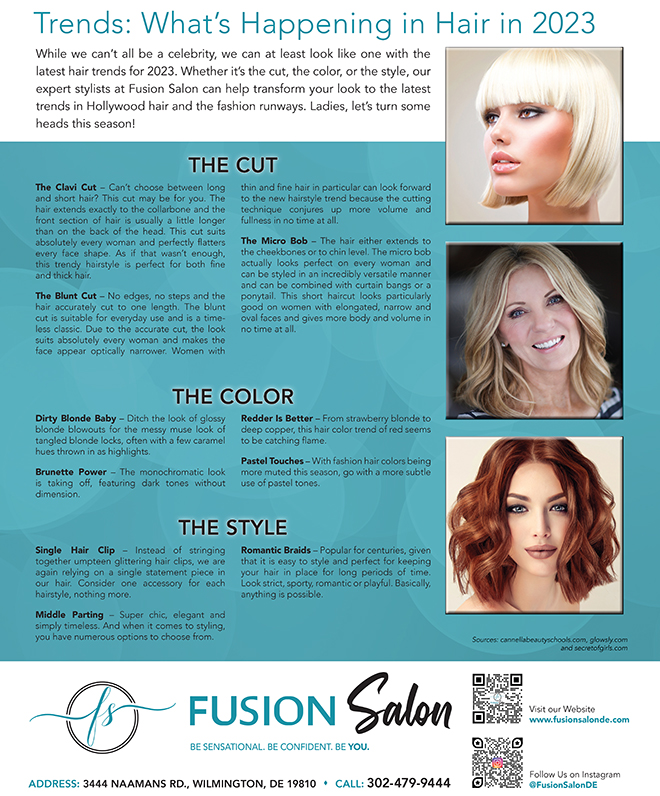 Fusion Salon
Text: 302-784-5713
3444 Naamans Road Wilmington, DE (202 & Naamans)
Call: 302-479-9444