Everything You Should Know About SmartLipo®
|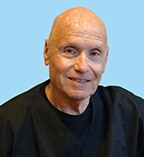 By Nadiv Shapira, MD, FAC, FACPh
Are you exercising and consuming the right diet, but still struggling with stubborn pockets of fat? Whether the unwanted fat is on your arms, thighs, stomach, or hips, you can remove it with SmartLipo® to achieve that youthful and attractive look you always wanted.
Data from Statista.com shows that liposuction was the most popular cosmetic procedures done in 2020! Liposuction has overtaken breast augmentation as the world's most popular form of cosmetic surgery, according to newly published data from the International Society of Aesthetic Plastic Surgery (ISAPS)
What Is SmartLipo®?
SmartLipo®, also referred to as lipolysis, is a cosmetic procedure that utilizes laser lipo-sculpture to melt fat cells, enabling easier and faster extraction. The laser eliminates excess fat with minimum discomfort and tightens your skin during the same procedure, something that regular liposuction cannot do. 
Before undergoing the SmartLipo® procedure, you'll discuss your expectations with Dr. Shapira and together with you, he will create a customized plan to achieve your desired results. The procedure takes a few hours. The surgeon makes tiny incisions and then inserts a laser fiber. Once the fat membranes get destroyed, he applies the laser fiber to tighten the skin, and then he suctions the liquid fat out using a cannula.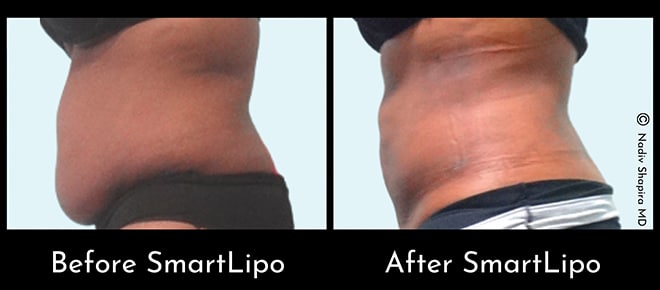 Short Recovery Time
SmartLipo® has a short recovery time, and most people can go back to their normal routine within two to three days. You'll still notice some swelling for about 14 days. You will enjoy a significant improvement in your shape within a week. Skin tightening will start immediately and continue to improve for 6 months.
Smartlipo® Advantages
Some of the advantages of opting for SmartLipo® over other treatments such as 360o Liposuction, the Mommy Makeover or CoolSculpting include:
Safety – This liposuction method is FDA-approved and considered safe and effective. 
Fast results – Some people notice results immediately after the liposuction procedure, but there will be some swelling so some will notice the positive changes within a week.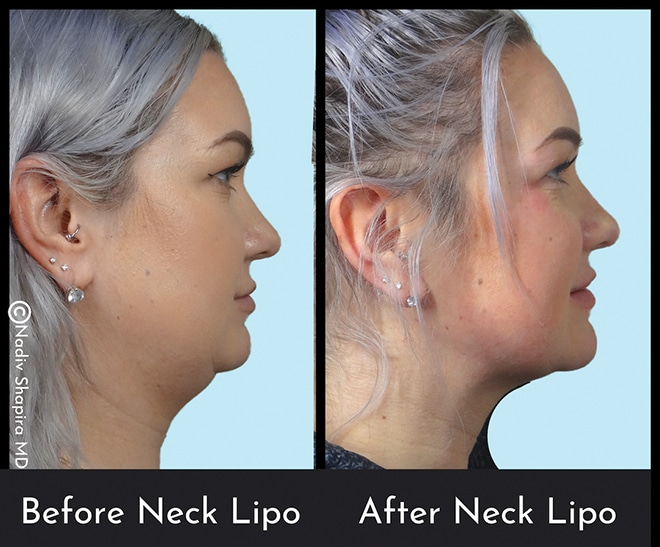 Comfortable procedure – This innovative fat removal procedure is gentler than other liposuction procedures, so patients tolerate it very well. Medication is used to relax you; local anesthesia is utilized and we also give you the option to use self-regulated Nitrous Oxide inhalations to further your comfort. 
Tightening of the skin – SmartLipo® tightens the skin, unlike traditional liposuction procedures that may leave you with sagging skin.
Very effective procedure – A study published in the National Center for Biotechnology Information or NCBI (https://pubmed.ncbi.nlm.nih.gov/21718186/) shows that lipo-sculpting of the face and different areas of the body done with SmartLipo® has given long-lasting and excellent results. 
Comprehensive body sculpting – In just one procedure, Dr. Shapira can address not only excess abdomen fat, but also the love-handles or waist as well, which will improve your shape all around, just as 360° Liposuction does.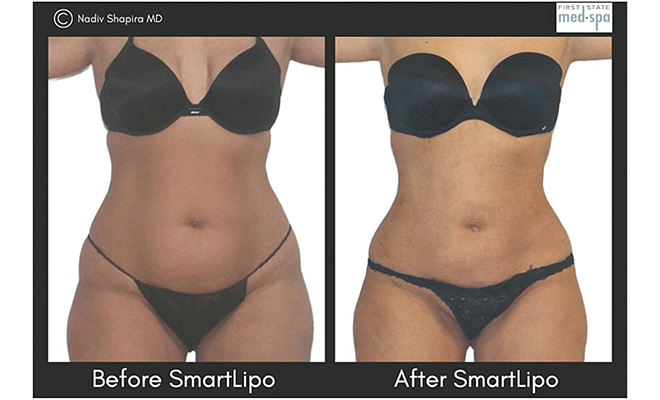 Am I An Ideal Candidate For SmartLipo®?
The ideal candidate for SmartLipo® has had stubborn, excess fat for months or years despite sticking to a diet and exercising. If you work out and are in good physical condition, you will have excellent results from SmartLipo at First State MedSpa. Schedule a consultation to Discuss SmartLipo® at First State MedSpa. SmartLipo Triplex® is now the preferred liposuction procedure among people seeking to eliminate stubborn, excess fat. At First State MedSpa, we offer professional sculpting procedures to help you realize the goals you've always desired for your body through SmartLipo®.
Testimonials
⭐️⭐️⭐️⭐️⭐️ "I am so happy I chose First State MedSpa. Dr. Shapira is absolutely fantastic. He is very knowledgeable, talented and experienced. Furthermore, he is friendly and the atmosphere is very relaxing and clean. I wouldn't go anywhere else!"  ~ Catherine H., May 2022 
⭐️⭐️⭐️⭐️⭐️ "The staff was so warm & friendly. I instantly felt comfortable. I've never had any of this type of cosmetic work done & was more than a little nervous. Everything was explained to me, from procedure to pricing. There was no pressure to purchase. I really felt like my best interest was put first." ~ Joanne M., May 2022
Bio
Dr. Nadiv Shapira, the Medical Director of First State MedSpa, was a Cardiothoracic Surgeon for over 20 years. Since founding one of the first Med Spas in Delaware in 2011, he and his experienced staff offer a wide variety of anti-aging and body sculpting procedures such as PDO Thread lifts, PRF (Platelet Rich Fibrin) injections, RF Microneedling, laser for skin and hair rejuvenation, Botox and facial fillers, fat reduction and skin tightening and vein treatment. Dr. Shapira has great expertise in liposuction and SmartLipo® which is done under local anesthesia, and he has become an expert in diagnosing and treating Lipedema, a debilitating fat disorder where women seek his care from all over the U.S. and Canada. Dr. Shapira is a Diplomat of the American Board of Surgery, American Board of Thoracic Surgery, certified by the American Board of Venous and Lymphatic Medicine and a Member of the American College of Phlebology, American Venous Forum and the American Academy of Cosmetic Surgery.
For more information call 302-294-0700 or visit www.firststatemedspa.com