SmartLipo – The Permanent Fat Eliminator
|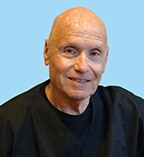 By Nadiv Shapira, MD, FAC, FACPh
What Is SmartLipo®?
SmartLipo is a minimally invasive procedure that treats fat in specific body areas using a controlled laser to heat and destroy unwanted fat deposits. After the excess fat cells are killed off, they are removed and the body continues to remove them for months, through its natural metabolic processes. The laser heat energy also tightens the skin for added contouring and skin smoothing. Liposuction and body contouring procedures like SmartLipo are most often performed on the thighs, buttocks, arms, abdomen, back, and stomach.
What Are the Advantages of Body Sculpting?
When you choose First State MedSpa to perform body contouring and SmartLipo, you are choosing a provider who will make your dreams come true with minimal risks and costs. Each procedure is performed by an experienced surgeon who excels in aesthetic and cosmetic surgery.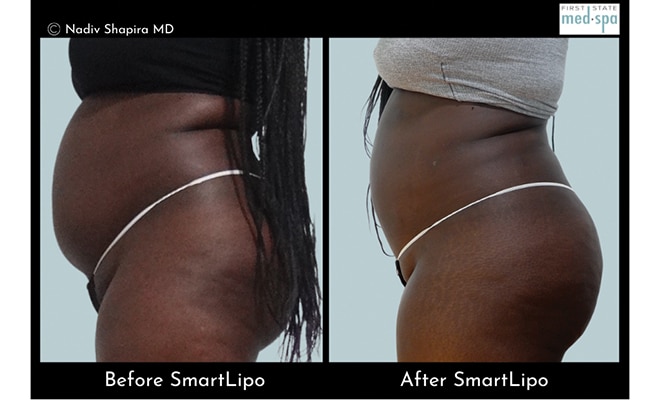 More Defined Body Shape
Achieving a more defined, well-shaped body is easy with body contouring and SmartLipo. It will provide the results you want within the time frame you need. The procedure minimizes the appearance of jowls or a double chin to create a sharper jawline and more defined facial features. SmartLipo can also eliminate bulges of fat to smooth the look of your back, thighs, stomach, and more!
Non-Surgical
SmartLipo is performed with local anesthetic to ensure that there is very little to no pain during the procedure. Unlike other plastic surgery procedures, only very small incisions are necessary to remove fat, and the downtime is also reduced to just a weekend or so. You can enjoy stunning results with minimal recovery time and no scarring!
Smartlipo® Vs. Liposuction
Traditional liposuction uses a cannula and physical manipulation to suction fat from beneath the skin. SmartLipo Triplex® utilizes laser energy to liquefy the fat, making it easier to remove with the cannula, typically resulting in less bruising for the patient.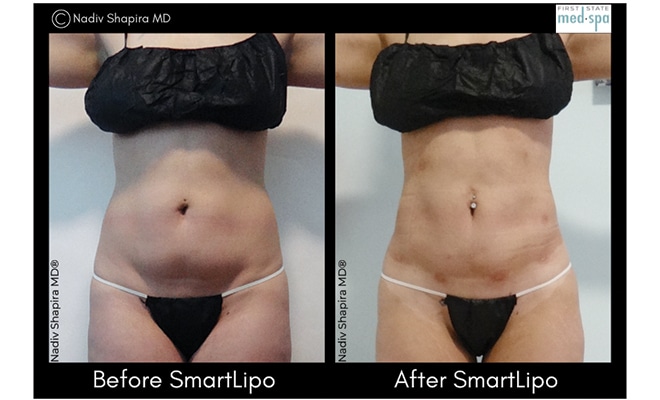 Tightens The Skin
Smartlipo Triplex® has an added benefit of tightening the skin. Liposuction alone or CoolSculpting® do not provide any skin tightening and often leave dimpling or sagging skin, particularly with older patients who have lost more of their skin elasticity. Many times, after traditional liposuction, a Tummy Tuck is required to remove excess skin.
Short Recovery Time
Traditional liposuction requires a longer recovery time while SmartLipo Triplex® patients can return to work in a couple of days.
Permanent Results
Fat cells are removed permanently in Smartlipo, so if you gain weight after the procedure, it will not concentrate in areas that were treated. To keep your new shape after Smartlipo Triplex® you should have a healthy lifestyle including a good diet and exercise plan.
Testimonials
⭐⭐⭐⭐ "Amazing staff! They listened to my concerns and made such a difference!"~ Crystal R.
⭐️⭐️⭐️⭐️⭐️ "I am so happy I chose First State MedSpa. Dr. Shapira is absolutely fantastic. He is very knowledgeable, talented and experienced. Furthermore, he is friendly and the atmosphere is very relaxing and clean. I wouldn't go anywhere else!"  ~ Catherine H.
⭐️⭐️⭐️⭐️⭐️ "The staff was so warm & friendly. I instantly felt comfortable. I've never had any of this type of cosmetic work done & was more than a little nervous. Everything was explained to me, from procedure to pricing. There was no pressure to purchase. I really felt like my best interest was put first." ~ Joanne M.
Bio
Dr. Nadiv Shapira, the Medical Director of First State MedSpa, was a Cardiothoracic Surgeon for over 20 years. Since founding one of the first Med Spas in Delaware in 2011, he and his experienced staff offer a wide variety of anti-aging and body sculpting procedures such as PDO Thread lifts, PRF (Platelet Rich Fibrin) injections, RF Microneedling, laser for skin and hair rejuvenation, Botox and facial fillers, fat reduction and skin tightening and vein treatment. Dr. Shapira has great expertise in liposuction and SmartLipo® which is done under local anesthesia, and he has become an expert in diagnosing and treating Lipedema, a debilitating fat disorder where women seek his care from all over the U.S. and Canada. Dr. Shapira is a Diplomat of the American Board of Surgery, American Board of Thoracic Surgery, certified by the American Board of Venous and Lymphatic Medicine and a Member of the American College of Phlebology, American Venous Forum and the American Academy of Cosmetic Surgery.
For more information call 302-294-0700 or visit www.firststatemedspa.com