2022 Marketing Trends To Watch & Do
|
As your audience is constantly pounded by commercials, content, and ads several times throughout the day,  you must do something that sticks.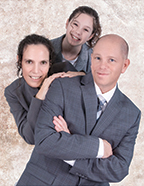 By Mike, Trisha & Arianna Fox, SPLASH DESIGNWORKS
"To help you stand out from the crowd, there are clear content marketing trends that help boost your presence for 2022." – Mike & Trisha Fox
There are so many choices for your to invest your marketing dollars now. Do you produce videos, do you purchase radio advertising, invest in redoing your website, rebrand, rely on word-of-mouth, or a combination of all of these – or some of them. Too many choices.
But one thing is clear, 2022 trends are on its way, and trends work.
1. Humanize Your Content
If it seems like a machine or outsourced marketing company is speaking on your behalf, your audience will know it – and you'll see it in your sales drop. More and more, your audience not only wants, but needs real, geniune, original content – that comes straight from the leadership of the business. They want to know you care enough to share… personally.
2. Storytelling
As multi award-winning filmmakers, we can't stress enough the power and importance of storytelling. In other words, keep to the 80-20 rule. 80% inform, education and entertain…. and 20% sell. 
When it comes to your brand, be a storyteller. Talk to and with your audience. Nothing sells a movie or book like a good story; complete with characters, plots, narratives, twists, cliffhangers and more. And if you've succeeded in any way, or even just starting your business, you have a story – or two. So, tell it! Tell your story that can somehow relate to your audience, and you'll quickly end up earning their trust and confidence. And that translates directly into sales and revenue.
3. Balancing Your Investment
As a strategy to help not put all your eggs in one basket, unless those eggs are truly producing more eggs, here is a good rule of thumb on segmenting and focusing your marketing stratgegy:
41% SOCIAL MEDIA 40% VIDEO 25% CUSTOMER RESEARCH
40% CONTENT PROMOTION 35% CONTENT QUALITY AND RELEVANCE
4. Storytelling
Video remains a top priority for all marketers with usage and spend continuing to increase. Just let these stats sink in…
• Since 2019, an average user has watched above 100 minutes of video content per day.
• About 86% of businesses said that they were using videos as an important marketing tool. At the same time, 93% of them believe that it is a critical part of every marketing strategy.
• About 84% of consumers used to be convinced to purchase after watching a video.
We can help in all the above, so contact us today!
SPLASH DESIGNWORKS
Design • Social Media • Video & AUDIO
Creative Marketing • Branding & more!
(302) 399-7851  •  [email protected]