How To Make Your Big Day Easier Extensions!
|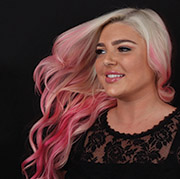 Kristina Alibrando
Written by Kyra Miller
How often do you waste time in the morning standing in front of your mirror putting layers of mascara on trying to get your lashes looking long and luscious, only leaving them clumpy and dull? Even fake eyelashes don't do the trick. Trying to place those things on your eyes with that messy glue is a challenge. Even when professionally applied they fall off in due time and never quite give you the exact look you had in mind.
Could you imagine having to fuss with all of that on your wedding day? On your big day you'll want to eliminate as many of those stressful moments as possible by trading in mascara for eyelash extensions. You may never go back! 
Everyone wants fluffy, perfectly curled eyelashes. Not only is it a confidence booster, but it's a total time saver – and perfect for brides. Eyelash extensions are completely fuss-free on your big day and are specifically designed to make you look and feel like the beautiful bride you are. Whether your wedding vibe is casual and lowkey or full-glam, eyelash extensions give you a level of customization that can't be achieved with glue-on falsies or mascara. The lash artists at The Permanent Cosmetic & Lash Studio have enhanced dozens of brides over the years for their wedding days.
Plus, with eyelash extensions, there's no need to worry about mascara smudges when you are teary-eyed on your wedding day! Even with glue-on falsies, tears cause those to shift. Your eyelash extensions stay completely intact through the happy tears and won't need to be bothered with at all.
It's a common misconception that lash extensions will ruin or damage your natural lashes, but as long as you see the certified and trained professionals at The Permanent Cosmetic & Lash Studio there should be absolutely no damage to your natural lashes.
Lasting anywhere from 2-5 weeks, the extensions will shed off with your natural lash when a new one has already grown in. This makes them perfect for your honeymoon! Whether you are headed to an exotic island, a European adventure, or a domestic getaway, makeup and mascara will be totally forgotten after you get hitched – stress free, and more time to be with loved ones. At-home care when you are on your honeymoon is simple. All you need to do is brush them daily with the tool provided by your artist and steer clear from all oil products used on your face. And of course, no mascara. But trust us, you won't need it!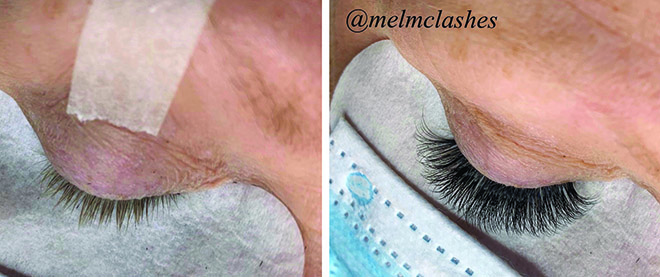 To learn more about getting eyelash extensions for your big day, call or text The Permanent Cosmetic & Lash Studio at 610.883.0636 to get the lashes of your dreams!
Now that you know all about how eyelash extensions can ease your worries on your wedding day, hear from a bride who has been there:
"I am so glad I saw The Permanent Cosmetic & Lash Studio before my wedding day. I didn't have to worry at all about clumpy lashes or gluing on fussy fake ones; plus, they lasted all the way through my honeymoon. My lashes made me feel like the most beautiful bride." ~ Jenna H.
About The Artist
Kristina Alibrando is a licensed cosmetologist specializing in permanent cosmetics and Russian Volume eyelash extensions. Kristina is one of the youngest members of The Society of Permanent Cosmetic Professionals and is an Associate Member of The American Academy of Micropigmentation. Kristina has been performing eyelash extensions for 10 years and specializes in Volume eyelash extensions, an advanced certification she acquired from one of the industry's most reputable trainers in New York City. With this certification, Kristina is skilled at customizing a client's individual eyelashes by volume, curl, and length. Kristina regularly works on clients from across the east coast and encourages you to schedule your bridal eyelash extension appointment now! Kristina is also a member of the SPCP.