Cranky, With A Touch Of Psycho?
|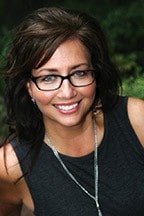 By Laura DelPercio
How many ladies can relate? THE CHANGE, is literally, a life-changing experience for women. While you lose something that makes you distinctly female, that loss may be viewed as a negative or positive depending on how you look at it. Regardless, many view it as puberty's evil older sister; we cannot catch a break. Unfortunately, half of all women gain a plethora of unpleasant hormonal symptoms. Irritability, weight gain and mental fogginess are some of the symptoms associated with it. For some, it can feel overwhelming, lonely, and discouraging for both you and those around you.
I suffered with these issues for years, not really knowing what was happening to my body, but realizing a change was needed. The lower reproductive hormones associated with this life change will increase the risk of osteoporosis, bone fractures, and cardiovascular disease, such as myocardial infarction and stroke (UCLA, n.d.). I was introduced to hormone replacement to help ease my symptoms. Unfortunately, HRT is associated with serious risks when used long term. 
Fortunately, there are many advancements in homeopathic remedies to help ease the symptoms or even improve overall wellbeing. Plants offer a great way to introduce additional nutrients into a diet. 
Curcumin, the active ingredient in Turmeric, helps support a healthy immune function and may even reduce mood disorders; both are benefits for menopausal women. It helps to boost the detoxification process of the liver by increasing the liver's purifying enzymes. This allows the liver to clear out old hormones, alleviating many menopause symptoms. Curcumin also helps boost Brain Power. 
Curcumin is a phytoestrogen (a plant source of estrogen) that can help menopausal women to rebalance their estrogen levels in a healthy and natural way. Natural phytoestrogen like curcumin has been recommended for its ability to manage estrogen levels without other side effects. It is also a natural antimicrobial and anti-inflammatory herb that supports weight control, digestion, joint pain & cools hot flashes.
CBD and Curcumin is a powerful mixture. CBD (Cannabidiol) is one of many cannabinoids found in the hemp plant. Unlike its cousin the marijuana plant, which contains tetrahydrocannabinol (THC), CBD does not create a psychoactive effect. It works by interacting with the body's endocannabinoid system and influencing receptor activity. Curcumin and CBD both support a healthy immune system but in different ways, and when combined, they help provide maximum support of a healthy immune system. Please Visit https://bit.ly/Plantbasics for more information. 
References: Health, UCLA Obstetrics. "Menopause." UCLA, n.d., www.uclahealth.org/obgyn/menopause.
Bio
Laura, a native of Wilmington, DE, is an Independent Affiliate for Hempworx, My Daily Choice. A leader in the industry, they aim to provide global consumers with high quality hemp products that are affordable and different. She is passionate about educating people about the holistic benefits of the Hemp plant in the hopes they find an alternative to other forms of treatment. Laura welcomes questions from those interested in learning more about CBD, as well as those interested in learning more about the fastest growing businesses in today's market. Please Visit          https://bit.ly/plantgigi   
FDA Disclaimer – These statements have not been evaluated by the Food and Drug Administration. These products are not intended to diagnose, treat, cure or prevent any disease. MyDailyChoice, Inc. assumes no responsibility for the improper use of and self-diagnosis and/or treatment using these products. Our products should not be confused with prescription medicine and they should not be used as a substitute for medically supervised therapy. If you suspect you suffer from clinical deficiencies, consult a licensed, qualified medical doctor. You must be at least 18 years old to visit our website and make product purchases. We do not make any health claims about our products at MyDailyChoice. Before taking our products, it's wise to check with your physician or medical doctor. It is especially important for people who are: pregnant, chronically ill, elderly, under 18, taking prescription or over the counter medicines. None of the information on our website is intended to be an enticement to purchase and may not be construed as medical advice or instruction. The use of any of our products for any reason, other than to increase general health & wellness, is neither, implied nor advocated by MyDailyChoice, Inc. 
Call her at 302-540-8949 or email [email protected]