Your Foundation Concierge
|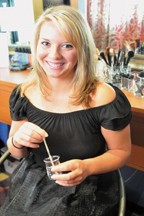 By Ashley Bizzarri, Owner of Customized Cosmetics by Ashley and Custom Blend Specialist
The perfect foundation can make your skin look fresh and give you a youthful glow. The wrong foundation however, can make you look weird, fake and even old!
There are four major criteria that make up the perfect foundation:
COLOR ~ Makeup can change color when it sits on the skin due to your body temperature and also changes when viewed in different lighting. Your foundation must also match your undertones. You should be able to sample the foundation before you buy so you can be sure it looks natural in various lighting.
COVERAGE ~ Some have more to conceal than others. If you have typical uneven skin, go for a sheer to medium formula. If you have more to conceal (hyperpigmentation, dark spots, extreme redness or rosacea) look for medium to full coverage.
FINISH ~ There are two main looks that a foundation can give you: dewey (think JLo) or matte (think Taylor Swift). A good rule of thumb is if you have dry skin and/or are over the age of 30, choose a dewey finish. Matte is best suited for younger, flawless skin or oily skin.
SKINCARE ~ You must make sure that whatever you are applying to your face is good for your skin!
There is no regulation on the cosmetic industry (i.e. there's no one policing expiration dates). Wearing old makeup is a big no-no, you're applying bacteria directly to your skin. If there is no expiration date on your makeup, ask the salesperson.
Make sure your foundation is non-comedogenic (will not clog your pores). This is especially important for women who breakout.
Also, your foundation should improve your skin. For example, if you have oily skin, make sure your foundation is an oil-controlling formulation or a hydrating formulation for dehydrated skin.
Lastly, you MUST make sure your foundation is 100% off your face when you go to sleep at night. A water-based foundation will wash off instantly versus an oil-based foundation.
Don't have time to search through thousands of foundation lines to find the perfect match? I'd like to be your face's personal stylist and create the absolute best formulation for you. Think of me as your foundation concierge.
Testimonials 
"Ashley is wonderful! I absolutely love the custom foundation and setting powder that she created for me!! If you're reading this, then I'm sure you've experienced "orange face" a time or hundred. Let's be honest, it sucks! Ashley is so precise with matching the color to your own skin tone! Another thing that I find not only professional, but friendly and welcoming, is that she will respond to any texts you have, and has no problem answering any questions at all. I plan on using this foundation/setting powder for my wedding. Peace out orange face!"   ~ Lindsay 
"Before I was introduced to Ashley, I felt like I had to settle for a foundation that hardly resembled my complexion. I often felt discouraged when shopping for foundations because my options were limited. When I had my consultation with Ashley she assured me that she would create the right shade for me. Ashley was patient, professional and knowledgeable. Now, I feel more confident and comfortable knowing I will have no harsh lines and a foundation that lets my natural beauty glow!"    ~ Sage
Call or text Ashley to book a consultation at 301.466.5625 or email her at [email protected]