Your Fine Jewelry Can Last A Lifetime (With A Little Help)
|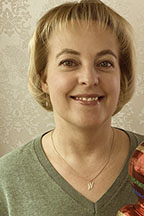 By Deborah Wentworth, AJP (GIA)
Diamonds Graduate (GIA)
Colored Stones Graduate (GIA)
Purchasing a piece of jewelry can be fun, exciting, and even a little nerve-wracking! When we find the right piece and make the decision, we hope that our jewelry will last a lifetime. But like anything that gets used everyday (like our cars), we should expect a little bit of maintenance to counter the normal wear-and-tear.
Diamonds and gemstones are generally placed into a ring in a setting with prongs that hold the stone in place. The prongs look like vertical bars that cradle the stone and fold up over the top edge of the stone with "tips" to help hold the stone in its setting.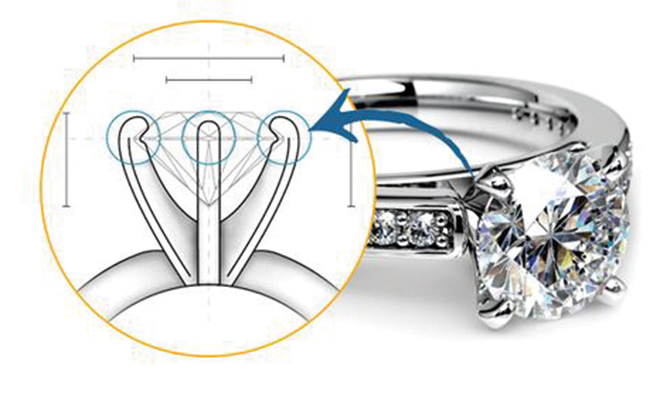 These settings are designed to protect your center diamond or gemstone and keep it locked in place. A diamond shouldn't wiggle or spin if it's set properly. But our jewelry is made of metal, usually gold or platinum, and encounters a lot of wear and tear over its lifetime. Over time, and with regular wear, the tips and prongs on a ring can wear down.
It's always a good idea to keep an eye on your diamond and setting to make sure everything still looks secure. A quick check with your local jeweler will help make sure that your jewelry stays in great condition! Here are some things to look out for:
Too-short prongs
Take a very close look at your ring from the side view. All four or six of the prong tips on top of your stone should be the same height. They should be slightly domed over the top of the stone. If they are flat or thin looking on top, they are susceptible to catching and pulling away from your diamond.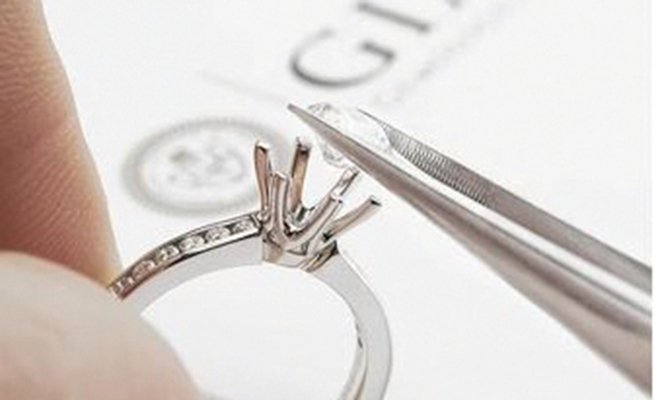 Bent prongs
Look at your center diamond or gemstone from the top down and take note of where the tips of the prongs are. They should be equally spaced around the perimeter of the stone. If one prong tip is close to another, it has probably been bent or knocked slightly out of place. Bent prongs need attention right away to keep your diamond or gemstone secure.
Sharp prongs
If you run your finger across the top and sides of your ring, do you feel anything sharp or scratchy? Does fabric or thread get caught on the prongs of your ring? Both could be signs that a prong is damaged or pulling away from your diamond or gemstone. It's time to have that setting looked at by your local jeweler!
We like to say that prongs on rings are like tires on a car—they wear down over time and occasionally need to be replaced. If you want them to work properly, they need regular maintenance and servicing. We recommend having rings inspected every six months or so, just to make sure that the settings are secure. It's always better to be safe than sorry when it comes to a meaningful diamond or gemstone!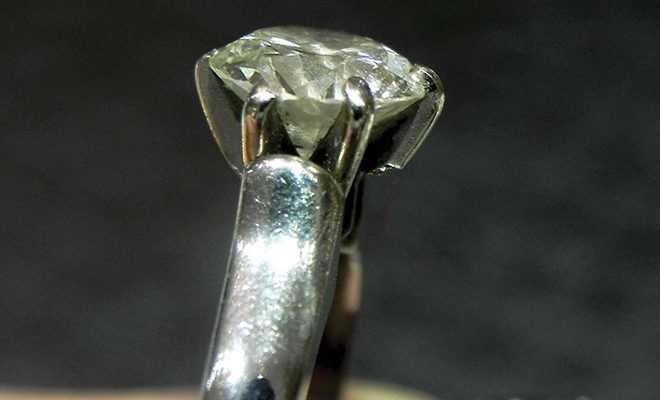 It's the job of any responsible jewelry owner to take care of their precious accessories. Fine jewelry can be a significant investment, but it's not indestructible. That's why your jeweler is a great resource in helping take care of your most valued jewelry. Sayers Jewelers & Gemologists has a dedicated full-service repair shop on site in our store, ready to assist when you need it most. Your precious memories will be in trustworthy, capable hands throughout the entire repair process!
Sayers Jewelers and Gemologists
Since 1950
19 South Maine Street, Smyrna, Delaware
302-653-9456
sayersjewelersandgemologists.com