Your Children Are Part Of Our Family
|
By Natalie Scott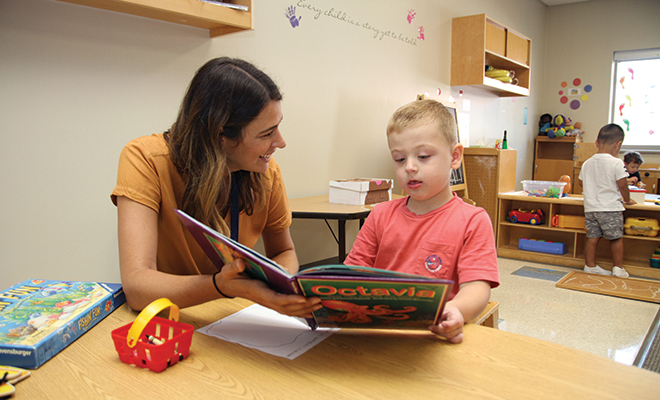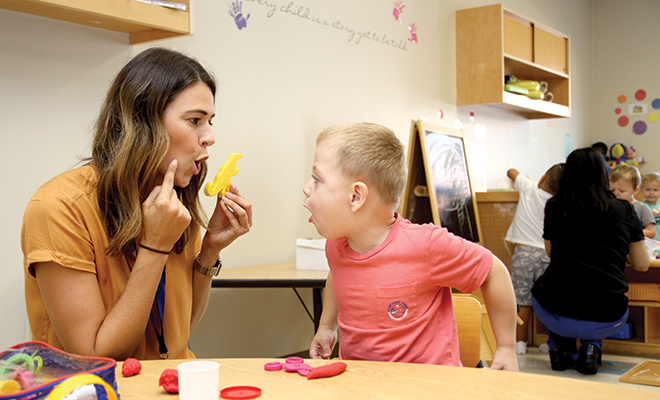 We were in the car and Joey started singing the Lion Guard theme song. I know most three-year-old kids sing, but for my husband and I, it was a big deal. We knew we were hearing him sing for the first time thanks to speech therapy with Easterseals."
Joey's journey with Easterseals Delaware & Maryland's Eastern Shore began when he was almost two years-old. Therapy not only gave the Paola family that special moment in the car, but has also helped Joey with his communications skills – progressing from sign language to speaking his first words to stringing words together into sentences. All of these skills have helped him learn to communicate with his parents, easing a lot of the frustration that comes with not being understood.
"My child is a different child since he started with Easterseals. Easterseals exceeded any expectation and needs we had," Kelly, Joey's mom, says. "We were a family that went from surviving to thriving."
A trusted provider of children's therapy services for more than 70 years, Easterseals Delaware & Maryland's Eastern Shore specializes in treating children ages birth through eighteen years with a variety of challenges. Easterseals specializes in meeting the needs of children and their families through creative, playful activities that go beyond traditional services. 
Thanks to physical and occupational therapy with Easterseals, Joey has gone from frequently falling because of his physical disability to jumping with both feet. He is also using both of his hands intentionally to play, stack blocks and solve puzzles. Feeding therapy has helped him to swallow and tolerate different foods.
"Easterseals is exemplary. The caliber at Easterseals is high. They hold themselves to higher standards and that really benefitted us. They didn't just say 'this is another kid in my case load.' They care about us as a family," Kelly says. "Easterseals therapists made adjustments to make Joey feel comfortable during therapy. It is a perfect example of how they put him first. This is huge to our family." 
Hundreds of children each year receive physical, speech and occupational therapy at the Easterseals Children's Therapy Center in New Castle. Easterseals plays a critical role in providing needed therapy for children with a variety of disabilities, short or long term. Children with and without disabilities will find the highest quality services designed to meet their individual needs. For more information about Easterseals Children's Therapy services call 302-324-4444.
Easterseals Kent County center is located at 100 Enterprise Place, Suite 1, Dover, DE 19904
Easterseals in New Castle County is located at 61 Corporate Circle, New Castle, DE 19720
Please visit our website and see all of our services for people of all ages and abilities: www.de.easterseals.com