You Don't Have To Do It Alone!
|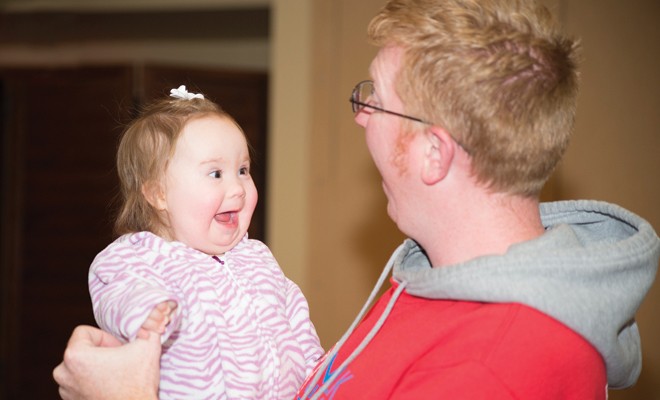 Life doesn't always go according to plan, but sometimes it can turn out to be the greatest gift in the world. This was the case for Angela and Andy when they gave birth to their daughter, Brinley, and found out she had Down Syndrome. It was a surprising diagnosis, as it was missed in the ultrasounds, but Brinley has been an incredible blessing to their family. Angela and Andy knew it was important to get Brinley into a children's therapy program as soon as possible. After heart surgery at 10 weeks, Brinley's parents found Easter Seals Children's Therapy program and it has made all the difference.
"We wanted to be proactive so she did not fall behind. We want to do all we can to set her up for success later on. Early intervention makes all the difference," Angela says. "We have been very happy with Easter Seals. I have no idea what we would do without the therapists at Easter Seals. They make such a difference in Brinley. I can't put into words how much the therapists and services mean to us."
Brinley, who according to Angela is a happy baby who rarely ever cries and adores her older brother, has come so far in her journey with Easter Seals. She is now able to sit up and is reaching for toys thanks to Physical Therapy, is transitioning well to solid foods with the help of Speech Therapy and working on grasping smaller objects in Occupational Therapy. "We are very proud of the things Brinley is picking up," Angela says. "Every milestone is a celebration. We don't take things for granted. She has taught us a lot in that area."
A trusted provider of children's therapy services for more than 65 years, Easter Seals Delaware & Maryland's Eastern Shore specializes in treating children ages birth through 18 years with a variety of challenges. Easter Seals specializes in meeting the needs of children and their families through creative, playful activities that go beyond traditional services.
"While Brinley's initial diagnosis was a huge shock, Brinley has brought nothing but joy to our family," Angela says. "She teaches us far more than we will ever teach her. I wouldn't change anything about her. She adds so much to our family."
More than 275 children per year receive physical, speech and occupational therapy at the Easter Seals Children's Therapy Center in Dover. Easter Seals plays a critical role in providing needed therapy for children with a variety of disabilities, short or long term. Children with and without disabilities will find the highest quality services designed to meet their individual needs. For more information about Easter Seals Children's Therapy services call 302-678-3353.