Winter Weight Gain . . . The Struggle Is Real
|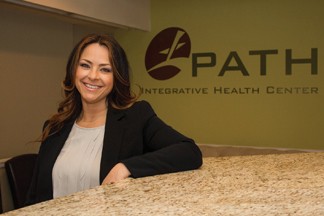 Dr. Heather Rooks, DC, Executive Director
PATH Integrative Health Center
Seasonal weight gain varies from person to person, but certain phenomena during the holiday season tend to tip the scales in a less desirable direction for most. According to research reported by Johns Hopkins University, people tend to gain five to seven pounds on average during the winter months. Yikes!
Evolutionarily speaking, being overweight has never posed a serious threat to our survival. Being underweight has. In the winter, our natural instinct to maintain body fat is stronger than any other season because that's naturally when food is scarce. So, more often than not, we fail to pass on sweet, fatty, unhealthy foods. The dark days and cold nights don't help either. Who doesn't love the cuddly comfort of a fuzzy blanket, their favorite snack and a movie over hitting the gym?!
Simply being aware of this evolutionary tendency is step one. (Look, you're halfway there!) Beyond this first step of awareness, it goes back to the fundamentals of appetite control, eating healthy real foods and exercising regularly.
Tips to avoid winter weight gain:  
Avoid white flour products like white rice, white potatoes, sugar, and sweets since high glycemic carbs can skyrocket blood sugar and insulin, increasing your appetite and promoting the storage of fat.
Instead, fill up on fiber-rich foods such as whole fruits, vegetables, whole grains, and beans. They can keep hunger at bay, stimulating the appetite-controlling hormone leptin, and keep glucose from flooding your blood stream.
Limit sugar, especially in beverages, cereals, and processed foods (like salad dressings, flavored yogurts, and packaged dessert snacks), which can trigger insulin resistance and fat storage.
Get more protein into your diet. The most natural way to provide longer lasting appetite control is to consume fish, skinless poultry, nut butters, organic dairy products, eggs, and beans. This will prevent the loss of muscle and help you maintain weight loss.
Now . . . what if you've already fallen off the wagon and have gained the weight over the holidays?! What if you were already overweight and the holidays simply tipped the scale?! The stress, the dark winter nights, the constant parties, sugary holiday drinks & cookies are all to blame! 
What if the weight gain has been gradually coming with no end in sight, and regardless of what you do, you can't seem to get it off. 
Maybe you're also sluggish, tired, unmotivated or just don't feel well enough to take the right steps?!
Maybe you don't know what to do?!
It's time to take ACTION and get your health, weight and happy life back on track. We offer a customized approach to help our patients get functional lab testing to assess where they are starting out and what challenges they are facing. This includes comprehensive blood work, inflammation markers, Vitamin D and B-12 labs, complete thyroid panels, blood sugar and insulin evaluations, and total STRESS and sex hormone testing.
At Path Integrative Health Center, our Life Restoration Program offers an educational model for what to eat, why and how your hormones may be impacting your results, and the importance of gut health and how it can be problematic . . . a true Health Optimization approach. Three months from now you'll thank yourself!
What PATIENTS ARE SAYING:
"You leave feeling like you were just at the greatest pep rally for yourself!" ~ Pam G.
"I went to so many doctors and I would walk out of the office with my head down because I never got an answer. Every doctor blamed my headaches and stomach aches on stress because I was a college student. Finally, after years of doctors and no answers, we took a different approach. My first meeting with Dr. Rooks changed my life and I knew I would be healed. Well, after 8 months, I haven't had a headache and my stomach aches have reduced! I'm such a happier person and I'm no longer living every day with pain and suffering. My first headache was 6 years ago–my last, 1 month ago. My life has been forever changed." ~ Rachel F.
"I feel awesome! I've lost 15 pounds and I think I'm looking great. I am a 57-year-old man and I'm on zero prescriptions. I think she's just awesome!" ~ Vincent C.
"Seeing Dr. Rooks was probably the best decision I've made. She's so knowledgeable and tailored everything for me. My thyroid is functioning better and my head in clearing. I feel so much better and I would recommend her to anyone."  ~ Debbie M.
"Within 4 months of following Dr. Heather's protocol I was off all medications totally. My family physician that I've been with for over 40 years was astounded by the turnaround and my health. My A1C was in non-diabetic range, my cholesterol numbers were perfect, and I no longer had high blood pressure. It's been a dramatic turn around."  ~ Dan D.
"I was lacking energy and had a lot of fatigue. I had some gut issues that I was hoping Dr. Rooks coul
Dr. Rooks is skilled and experienced at finding and addressing the root physiological, biochemical, hormonal and neurological imbalances causing the poor health status of people today. In the current health tragedy most people find themselves in, she has found an emphasis in Metabolic disorders like weight gain, pre diabetes, Type 2 Diabetes, digestive disorders and Hypothyroidism, but she works with all kinds of conditions.
Dr. Heather Rooks, DC  
PATH Integrative Health Center
Suite 3, 98 Wilmington-West Chester Pike (Rt. 202)
Chadds Ford, PA 19317         
484-775-0550
Call today for a complimentary consultation

[email protected]
www.PathHealthCenter.com