Where You Work Effects How You Work
|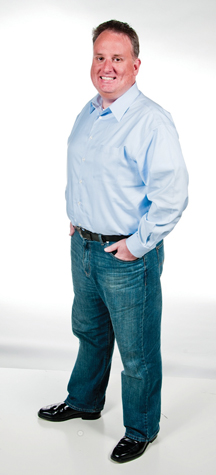 By Chuck Boyce
Taking Control of Your Environment
It's a typical day in the life of home-based businessman Bob Kornfeld.  And, as usual, things are a just little bit hectic.  A client called to discuss an upcoming project, but Bob can't find the notes from their last conversation anywhere on the desk in his home office.  One of the kids must have been using his computer yesterday, because his settings are wrong and it's running slow.  But then again, he's had to answer so many phone calls he hasn't had time to get anything done anyway.  Now he's got to organize a last-minute teleconference before the plumber arrives to fix the kitchen sink…which of course could be at any time in the next three hours.
Small business coaches know that for people who run home-based businesses, one of the biggest professional challenges is managing what can sometimes be a very unprofessional environment.   The more distractions there are, the harder it is to concentrate on the task at hand and do it well.  But there are solutions available to help small businesspeople get the most out of their work space.
Draw a Line between "Home" and "Office"
An office is a place to work.  It is not a place for the kids to hang out and play computer games, or a spot for solitaire breaks while cleaning the garage.  It should be a place that fosters productivity and focus.  A place where work gets done.  So if a home office is to serve as a functional place of business, it helps to follow a few ground rules.
Devote a separate space to the office.  A spare room is ideal, but if you don't have space, a separate corner or area will do.
Keep all others, especially children, out of the office during "business hours."
If at all possible, keep the computer off-limits to children.  Invest in an inexpensive computer for them to use.
Keep papers and clutter organized in drawers or files.
Get a separate business line to separate work-related calls from all other calls.
Physically Separate "Home" from "Office"
Of course, even in the best of circumstances, finding the space and privacy necessary to work productively at home can still be an issue.  But there are other options available to small businesspeople.
An executive suite or business center offers all the perks of a traditional office without the pressure of a long-term commitment.  Often available month-to-month, they are usually professionally furnished and equipped with all the necessary communication and latest technology.  They come in a range of sizes to suit one-person operations as well as larger ones.  And the best part is, they include a receptionist to handle the mail and visitors, internet access, telephone service, administrative support, office cleaning and more.
Another, even more affordable solution is the Virtual Office.  These offer only the services you need, from a separate address and phone service while you still work from home to meeting space, conference calling and other flexible, pay-as-you-go solutions.
These three options should offer a solution to any small businessperson.
About Chuck
Chuck Boyce is known as "The Independent Executive". After achieving success quickly in the corporate world he decided to step off of the corporate ladder and make his business work for him instead of the other way around. He is now dedicated to helping other entrepreneurs and business owners that have decided to jump off the corporate ladder.
For over a decade, Chuck worked along aside several entrepreneurs and built his own businesses. He has helped drive two different companies that appeared on Inc Magazine's Inc 500 list for multiple years.
An accomplished speaker and author, Chuck's work has been featured in USA Today, Connections Magazine, FastCompany.com and various blogs. He has appeared on ABC, NBC, CBS, CNN, Food Network.