WHAT YOU NEED TO KNOW BEFORE PURCHASING A DIAMOND
|
By Jim Stein
Father and son, Jim and Edward Stein continue in the family business founded by Jim's father in 1930, Maurice Stein. Stuart Kingston Jewelers is located on Pennsylvania Avenue, Wilmington, DE
Growing up in the diamond business in the 1950's and 1960's, I was fortunate to learn firsthand from my father how business was conducted. He had a supplier in Boston, Massachusetts where he purchased all of his diamonds. Back then, there were no independent certificates that accompanied the stones. He relied on his suppliers for a good price and for many years the business was done on a simple handshake and very little if any bargaining.
Today, however, the diamond business bears little resemblance to how it was conducted forty/fifty years ago. Technology, the Internet has advanced our understanding and the public's understanding about every important detail of diamonds in general. Suffice to say; very few people have an extensive knowledge about diamonds. It is a subject that takes many years of experience in buying and selling to understand "True Value".
The Gemological Institute of America® has become the world wide authority on diamond grading. My decision to sell GIA graded diamonds comes from many years of travel around the world in India, Israel, Europe, Middle East and the Far East and certified diamonds from the GIA are universally accepted as the authority. Until that practice changes, the most respected jewelers will continue to educate the public on this very important facet of our business. Unfortunately, the buying public has very little knowledge of what they really need to know before making such an important purchase.
In today's market, there is much hype and it has become increasingly difficult for most folks to separate fact from fiction! At the end of the day, it is vital that anyone interested in making an investment in a diamond, deal with only experienced, knowledgeable and respected jewelers that can share valuable information to help you make the best decision on your purchase and ensure you are getting exactly the quality stone you intended. It can be very disappointing to find out later what "you thought" you purchased does not match its true grade and therefore its true value. See our helpful general overview of how a diamond is graded on  www.StuartKingstonJewelers.com and we invite those interested in learning more, to please make an appointment for a Complimentary 20 minute– What to Look for in a Diamond session with Jim Stein.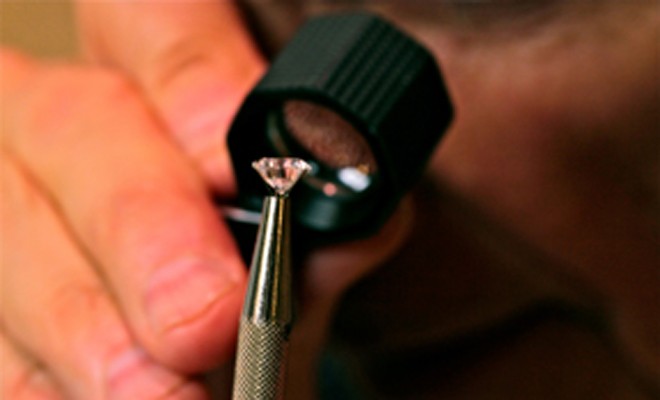 Jim Stein inspecting a round cut diamond, just one way to see into a stone for basic characteristics.  At Stuart Kingston Jewelers you can depend on superlative customer service, an experienced Gemologist for "True Value" appraisals and an in-house Jewelry Designer to create your one-of-a-kind custom designed piece!
Testimonials
Buying a ring is a daunting task, especially for someone like me who really had no clue where to begin. Edward and the team at Stuart Kingston walked me through every single step of the process. I went down to learn about the differences and Ed gave me some great advice.  I started gathering some information about what styles she liked and sent them some pictures.  His team helped me design and customize a ring that would be perfect for her.  It only took a few weeks to build and they updated me every step of the way.  Once it was completed, I was blown away and it made my proposal a lot easier knowing I had a beautiful ring from Stuart Kingston by my side. I would recommend this place to anyone as you won't find a better team to help you from beginning to the end. – Brad Rittle
I recently purchased an engagement ring from Stuart Kingston Galleries and cannot sing their praises loud enough. I'm a dude, through and through, and had no practical knowledge about buying diamonds; let alone building a ring. They walked me through the entire process, from picking the stone, to custom designing the setting, to getting the ring insured. When they didn't have the diamond I wanted in house, they shopped around for the diamond and found something that hit all of my wants and stayed within my budget. When they delivered the ring, I couldn't have been happier. Best of all, when I delivered the ring she said yes. Thanks Ed, I couldn't have done it without you! – Maximillian Osswald
I would never go anywhere else to buy an engagement ring…and I live in Los Angeles.  The Stein's are the classiest, most trust worthy people in the jewelry business.   I even got my friends in NYC, NJ and CA hooked on the Stein's.  We did everything seamlessly through the phone, email and fed-ex.  When making such a big purchase you really need that trust factor…and you can absolutely trust Stuart Kingston Galleries. – PJ Byrne
My cushion cut diamond engagement ring from Stuart Kingston Galleries is absolutely exquisite. My fiancé collaborated with Edward for months leading up to our proposal and was so grateful for Edward's incredible knowledge and guidance. The design is breathtaking, and the quality impeccable. We couldn't be happier! Not only are we in love with the ring — but it means the world to us to have worked with such an honest and trustworthy jeweler whose expertise is above and beyond. I look forward to designing our wedding bands with Edward and to visiting Stuart Kingston for other meaningful pieces in the years to come. – Brooke Lyons