What Can Tutoring Do For Your Child?
|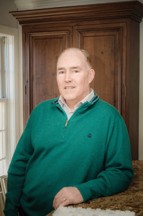 Presented By Jim Power 
Article By Dr. Raymond J Huntington, Co-Founder of Huntington Learning Center
If your child has ever failed a test or struggled through one or more subjects or classes, you've probably thought about looking into tutoring programs that could help.  Jim Power of the Newark, DE Huntington Learning Center says that most parents recognize the obvious benefits of tutoring, but there are many other positive results as well. "Individualized tutoring can help children fill in any learning gaps and raise their grades," says Power. "The great news is that there are so many other wonderful byproducts of tutoring that can have a lasting impact on a child and help shape his or her future for the better."
Mr. Power shares some of the positive things that tutoring can do for your child:
Foster independence.   
Children who struggle to keep up in the classroom often feel helpless and stuck, unable to complete tasks on their own. When they receive individualized instruction and develop the "building blocks" needed to progress in their learning, over time, they will feel empowered and more comfortable taking ownership of their education.
Improve self-esteem.    
Most children who struggle with school for an extended period of time begin to feel worthless and embarrassed, thinking of themselves as stupid or incapable of learning. The right personalized tutoring program will start to yield positive results, leading a child to feel relieved and even proud of his or her newfound abilities.
Renew interests.  
When children seem indifferent or angry about school, they might be masking their struggles to understand basic concepts and their feelings of frustration about even the smallest tasks. Tutoring will help pinpoint the root of any academic problems so that parents and teachers can take action. Once a child begins to feel more capable and confident, he or she will also remember what it feels like to be interested in learning.
Motivate.    
RescueTime -For children who repeatedly struggle in school, it's a daily challenge to muster up the motivation to put effort toward homework or assignments. Sadly, these students tend to feel that no matter how hard they try, they will fail. A customized program of instruction will help a child become a better student, and as a result, allow that child to experience the positive feelings associated with acquiring new knowledge. Soon, that child will feel more inspired to work harder and persevere when things are difficult.
One of the best things tutoring can do for your child is prompt him or her to feel more optimistic about school—and happier overall. "When children are able to finally understand something that has historically been difficult for them, it's an immediate boost to their confidence and feelings of self-worth," says Power. "Without a doubt, tutoring is a wise long-term investment in your child that you as a parent will see paying dividends for years to come."
About Jim Power and Huntington Learning Centers 
Jim Power is the Executive Director of the Huntington Learning Center in Newark, DE. Huntington is the tutoring and test prep leader. Its certified tutors provide individualized instruction in reading, phonics, writing, study skills, elementary and middle school math, Algebra through Calculus, Chemistry, and other sciences. It preps for the SAT and ACT, as well as state and standardized exams. Huntington programs develop the skills, confidence, and motivation to help students succeed and meet the needs of Common Core State Standards. Founded in 1977, Huntington's mission is to give every student the best education possible.
©2016 Huntington Mark, LLC. Huntington Learning Center®, the three-leaf logo, and 1 800 CAN LEARN® are registered trademarks of Huntington Mark, LLC. Each franchised Huntington Learning Center is operated under a franchise agreement with Huntington Learning Centers, Inc.
Learn how Huntington can help at www.huntingtonhelps.com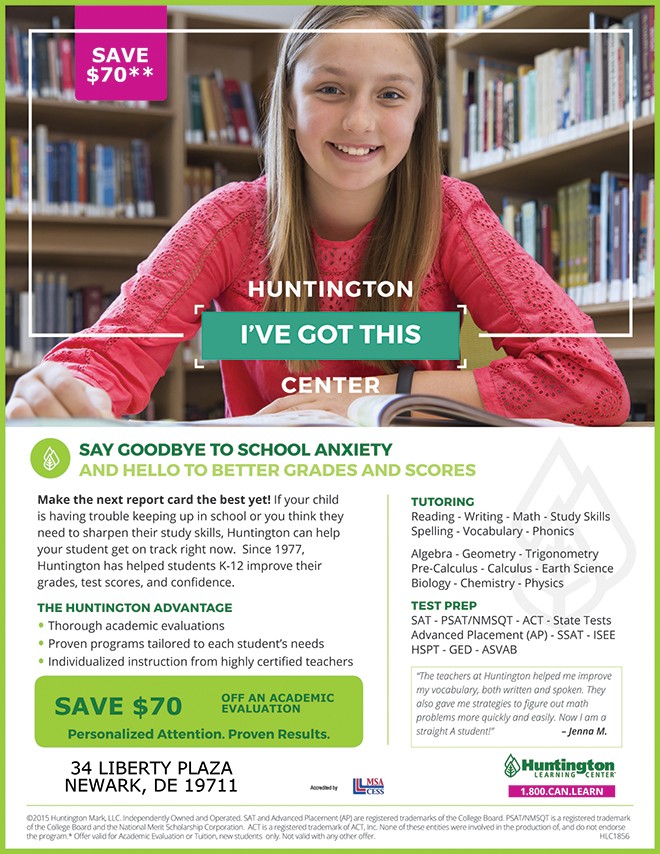 Dr. Raymond J. Huntington is the co-founder
of Huntington Learning Center, which has helped children achieve success in school for over 35 years.
For more information about how Huntington can
help your child, call 1-800-CAN-LEARN.
Jim Power is the Executive Director
of the Huntington Learning Center in Newark,
34 Liberty Plaza, Kirkwood Highway, Newark, DE  19711.
For more information or to schedule a consultation
at the Newark location call 302-737-1150 or
visit www.newark.huntingtonlearning.com.
Headshot by Shannon Adelson of Adelson Media, Inc.