Weight Loss For Your Health
|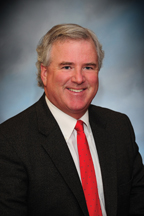 By John J. Kelly III, M.D., F.A.C.C.
There is no doubt that obesity is a major health problem in our society today.  The biggest impact many of us could have on improving our overall health and lowering our risk for medical complications would be weight loss.  Yet, this problem is very difficult for many of us to solve.  There are hundreds of fad diets, weight loss programs, and outright scams that promise quick and easy weight loss.  The foundation of every successful weight loss program relies on healthy, calorie controlled diets in combination with some form of exercise.   The simple fact remains that weight loss occurs when we burn more calories during the course of a day than we consume.  I recently read an article provided by the Mayo Clinic that outlined six points that are essential for a strategy for successful weight loss.
Making a commitment to weight loss is the first essential.  Permanent weight loss takes a great deal of time and effort.  It takes a lot of mental and physical energy to change our daily habits.  Addressing underlying stresses in one's own life maybe the first lead to success in maintaining weight loss related lifestyle changes.  By addressing stressful weight-related triggers like financial problems or relationship conflicts maybe the first step in lifestyle changes that may help us lose weight.  The stresses in our lives may never completely go away, but improving our ability to manage them allows us to focus on a healthier lifestyle.  
Motivation is essential to weight loss as well. And the best part is that "Motivation" can come from a variety of places including most importantly from within ourselves.  We are the ones who are going to have to undertake diet and exercise changes to accomplish the goal that we are now committed to.  What things are going to allow us to stick to our plan to lose weight?  Sometimes making a list of what is important to us helps us stay motivated and focused.  This could include simple things like wanting to look good on an upcoming vacation, desiring to dance at our children's wedding, or wanting to see our grandchildren grow.  Identifying motivational factors helps when we are tempted to break away from our diet.   It helps to take responsibility for our own behavior and realize that this is fundamental to helping us lose weight.
We need to set realistic goals when planning weight loss.  Rome was not built in a day and 50 pounds will not disappear suddenly.  A good long-term goal is to aim at losing 1 to 2 pounds a week.  If you lose weight at a relatively slow and steady rate, it means that you have made fundamental changes in the way you live your life.  To lose 1 to 2 pounds a week, you need to burn 500 to 1000 calories more than you consume each day.  This can be accomplished by lowering your dietary intake and increasing your physical activities.   It helps to think about  process and outcome when you are setting your goals.  Making a commitment to exercise regularly is an example of a process goal.  Hoping to lose 30 pounds over the course of a year is an example of an outcome goal.  The Mayo Clinical article suggests, that we make our goals SMART: Specific, Measurable, Attainable, Relevant, and Time-limited.  An example of a SMART goal is aiming to walk 30 minutes a day, five days a week for the next three months.
Changing what we eat is essential to lowering total calorie intake.  A simple way to lower caloric intake is to eat more plant-based foods.  This includes fruits, vegetables, and whole grains.  Striving for variety helps you achieve your goals without giving up taste or nutrition. An important fundamental to weight loss is to eat a healthy breakfast each day.  Try to eat at least four servings of vegetables and three servings of fruit daily.  Try to use healthy fats.  This includes olive oil, vegetable oils and nut butters.  We need to try and cut back on sugar and choose low fat dairy products.  Try to keep meat consumption to about a 3-ounce portion a day.  This means a serving of meat that is about the size of a deck of cards.
Getting active and staying active is a key to weight loss. The simple principle is that weight loss will occur if we burn more calories than we consume during the course of a day.   3,500 calories equals about a pound of fat.  You need to burn 3,500 calories more than you take in to lose one pound.  You would lose about a pound a week if you cut 500 calories from your typical diet each day, you would lose about a pound a week.  While you can lose weight without exercise, exercise plus calorie restriction can give you a weight loss edge.  Exercise can burn off the excess calories that you cannot cut through diet alone.  Exercise offers numerous health benefits.  This includes improving your mood, strengthening your cardiovascular system and reducing your blood pressure. It can raise your good cholesterol and help maintain weight loss.  Studies show that people who exercise regularly are more able to maintain weight loss better over the long term.
The final essential to weight loss is trying to change your perspective.  Eating healthy foods and exercising for only a few weeks or months is not going to be enough.  Long-term and successful weight loss comes from habits that become part of our way of life.  Lifestyle changes start by taking an honest look at our daily routine and eating patterns.  It helps to plan a strategy to gradually change our habits and attitudes that have sabotaged our weight loss efforts in the past.  We need to move beyond simply recognizing the challenge and move towards learning how to deal with it.  There is no doubt that weight loss is a major health issue facing many of us in American society today.   It is essential that we try and reduce health care cost in our society.  This is what is driving health care reform.
Taking personal responsibility for weight loss will not only benefit us as individuals by improving our lifestyle and longevity, it will also benefit our society as a whole.  This simple principle remains; burning more calories than we consume during the course of a day will lead to weight loss.  Those of us with weight issues need to look in the mirror and make a commitment to gradually changing and improving ourselves.  This is the best way to begin tackling this significant health issue.
John J. Kelly III, M.D., F.A.C.C.
Dr. Kelly has been a member of Cardiology Physicians since 1996.  Dr. Kelly grew up nearby the Wilmington area in Delaware County, Pennsylvania.  He attended Garnet Valley High School.  His family belonged to the Graylyn Crest Swim Club in Northern Wilmington.  Dr. Kelly obtained a Bachelor of  Arts from Swarthmore College and attended Jefferson Medical College.  His post graduate training began with a residency in Internal Medicine at the University of Illinois in Chicago.  He served as Chief Medical Resident there.  His Cardiology Fellowship was at the Texas Heart Institute in Houston Texas.  Dr. Kelly's recognitions include AOA membership, being named Intern of the Year at University of Illinois and being named Chief Cardiology Fellow at the Texas Heart Institute.  He was an Attending Physician at the Christ Hospital in Cincinnati.  He received a Teaching Award from the residents at Christ Hospital.  He was then an attending physician at Paoli Memorial Hospital and Bryn Mawr Hospital in Pennsylvania before joining Cardiology Physicians in 1996.  Dr. Kelly is a fellow of the American College of Cardiology and is board certified both in Internal Medicine in the subspecialty of cardiovascular disease.  He has additional board certification in interventional cardiology.
Dr. Kelly has a strong commitment to consultative cardiology and has been in practice since 1991.  Dr. Kelly has additional areas of interest including echocardiography, transesophageal echocardiography, stress echocardiography, diagnostic catheterization and catheter based treatment of heart disease.  He also has an interest in the treatment of peripheral vascular disease.  Dr. Kelly is the Medical Director for Cardiology Education at Christiana Care Hospital.
Dr. Kelly and his wife Janice were married in 1989.  Dr. Kelly and Janice are the proud parents of Jay and Brooke.  Dr. Kelly's free time is spent enjoying family activities.  He spends as much time as possible on the sidelines watching his children compete in various athletic contests.  He enjoys chipping in with coaching when able.  He tries, without much success, to play golf.