Weighing In Is Weight-Loss Surgery Right For You?
|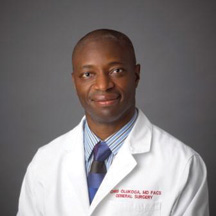 By Christopher Olukoga, MD, FACS
It is an unfortunate fact  that our nation is experiencing a critical weight problem with obesity. More than one-third of U.S. adults – nearly 38 percent – are obese, according to the Centers for Disease Control & Prevention, and the percentage continues to climb. Overweight and obesity are linked to several chronic diseases including type II diabetes, hypertension, sleep apnea, high cholesterol, heart disease, stroke, and certain types of cancer. In Pennsylvania alone, the percentage of overweight or obese adults topped 28.6 percent in 2011.
Weight loss surgery is a very durable option for obese individuals who have been unsuccessful at losing weight by diet and exercise alone. Weight-loss surgery (also called bariatric surgery) is a safe and highly effective procedure that has enabled hundreds of thousands of obese persons achieve life-changing weight loss. Clinical studies have shown that weight loss after bariatric surgery can resolve type II diabetes, hypertension, cut a person's risk of developing coronary heart disease in half and resolve obstructive sleep apnea in more than 85% of patients.
Heather had the laparoscopic adjustable gastric band (lap band) surgery at Brandywine Hospital performed by Dr. Olukoga in January 2012.  Like many women, she had a dangerous relationship with food. She loved to eat – and would eat anything and everything she could get her hands on whether she was happy, sad or angry. "Thinking back," Heather recalls "I wonder: Why did I do it?  I felt guilty about eating as much as I did, but I couldn't bring myself to stop.  It was a vicious cycle." Prior to surgery, Heather had a BMI of 46.9 and was suffering from sleep apnea and acid reflux; at this point, she was a suitable candidate for weight-loss surgery.
Although it is difficult to achieve sustainable weight loss without bariatric surgery, not all obese patients are candidates.
Individuals also should be:
Between the ages of 18 and 65
Have a high body mass index (BMI) of 40 or higher, or  a BMI of 35 or higher with an obesity-related condition like diabetes mellitus, hypertension, sleep apnea, or high cholesterol
Struggling with an obesity-related condition, like hypertension, heart disease, or sleep apnea
Trying to or have tried in the past to lose weight through other means
Psychologically ready for weight loss surgery
Willing to commit to dramatic post-operative lifestyle changes
It took Heather nearly two years to decide on weight-loss surgery.  "I had doubts," she recalls, "like, how am I going to survive this two week pre-surgery diet they are going to torture me with?  It was rough for the first few days, but it got easier.  I'm not going to lie, the procedure was tough. This is serious stuff, but every day it gets easier."
There are a number of factors to take in to account when considering weight loss surgery. Surgery is just one critical step that provides you with a tool that allows you to lose weight successfully.  You need to consider if your weight is such an issue that you are willing to take the risks of surgery, if you'll be able to afford it, and if you can commit to the necessary lifestyle changes needed for success after surgery. After a successful procedure, all patients need to maintain a lifelong lifestyle change that includes healthy food choices, food portion control, and regular exercise.
By a year and six months out of surgery, Heather had lost 89 lbs. Her sleep apnea and acid reflux have completely resolved. She has changed the way she eats, and she exercises three or more times a week.  "By any means, it is not all a piece of cake," she admits, "Still to this day I have good days and bad.  My mind sometimes still sees the heavier Heather; it still shocks me that I can shop pretty much wherever I want now.  I am so happy that I had the surgery and have no regrets.  I always say Dr. Olukoga saved my life.
Christopher Olukoga, MD, FACS, is a board-certified surgeon with Surgical Associates of Chester County and performs bariatric, general, laparoscopic and robotic surgery. Dr. Olukoga is on the medical staff at Brandywine Hospital and serves as the Director of General and Bariatric surgery.