Want Great Eye Brows?
|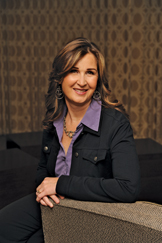 Let's talk about Microblading! Permanent Cosmetics May Be For You!
By Melisa A. Ferriola, CPCP
Microblading is the hot new trend in permanent eyebrows.  It has hit the internet by storm – Facebook, Pinterest and Instagram all have thousands of pictures of gorgeous hair stroke brows done by a technique called "Microblading."
What is this new technique?  Well, microblading is an advanced technique of "stroking" the pigment into the skin instead of "pushing" the pigment in.  There are no blades used in this procedure, but it IS tattooing and it IS permanent.  The result is very fine lines that closely simulate brow hairs for a more natural finished look.
Here are some answers to the most frequently asked questions…

Is it semi-permanent?
There are some technicians that are promoting this technique as semi-permanent.  Using this terminology seems less scary to a client, but it is very misleading.  By definition and tattoo industry standards, color is tattooed/implanted into the dermis of the skin.  Pigments do fade in the skin over time, but that does not make the process semi-permanent.  Touch ups, Refresh or Color Boost appointments will be needed and modifications can be made over time, but you should consider this a permanent procedure.
Why does microblading not last as long as other eyebrow tattooing techniques?
This is simply because a much smaller amount of pigment is inserted (tattooed) into the skin as compared to a fully or solidly filled eyebrow tattoos.  Refresh or Color Boost appointments usually are needed or desired approximately every 12 to 18 months (solidly fill brows may last 2 to 3 years before needing a refresh).  Check with your artist for maintenance pricing.
Is there less training needed to learn microblading as compared to learning permanent cosmetics?
No.  If someone is new to the industry and does not already have a minimum of 100 hours of training in permanent cosmetics, they need to have a similar amount of training in microblading, even if it is for just that one type of procedure. There are many areas of study when learning these techniques, which include facial morphology and bone structure, brow shaping and design, color analysis, color theory, proper handling of equipment, prevention of cross-contamination, as well as practice work and the opportunity to observe procedures before actually performing them under supervision.  Please beware of Spa Estheticians that are taking 2-Day classes and offering this service.
How are permanent cosmetic procedures done?
Permanent cosmetics procedures are performed using various methods, including the traditional tattoo or coil machines, the pen or rotary machine and the non-machine or hand method. I prefer the manual hand application method for a softer, more natural result.
What is involved with a procedure?
The initial procedure will generally take approximately 2 hours. The process includes an initial consultation to select color and to complete a brief medical history. Before and after photos are taken to help both the client and technician maintain the client's natural features. Topical anesthetics are applied and the pigment application is completed. Each procedure includes a follow up visit for adjusting the shape and color or density of the pigment. At Lasting Looks, this follow up procedure is included in the pricing.
What if I don't like it?
No procedures should be done without your design approval.  Your technician should also be setting realistic expectations.  Permanent Cosmetics has a different appearance in the skin than conventional makeup has on the skin.  Although the procedure is considered permanent, these procedures do have flexibility in changing color and shape to some extent, depending on the expertise of your technician.  There are lightening procedures available if really necessary.  And fading will eventually occur.  Talk to your technician about all your concerns at a consultation.
Profile:  Lasting Looks is a unique day spa in Hockessin Corner – next to the Back Burner Restaurant and Jennifer's Bridal. Our mission starts with the desire to empower women to take charge of their appearance and to put their best image forward. Our staff of estheticians can help meet all your skincare needs, as well as our unique services like eyelash extensions and permanent cosmetics.