Using Massage Therapy to Manage Stress
|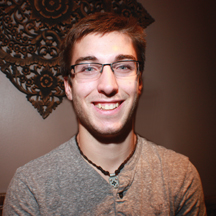 By Pete Lerza LMT, NCTMB, CHP, Manager
Kaya Wellness & Yoga
After surviving the hectic giving season, it is definitely time to slow down and take care of you for a bit. Stress is a silent killer. We rarely realize or acknowledge that we are stressed until we're sitting under a mountain of it and have nowhere to run.
While experiencing stress, we have an innate habit of rolling our shoulders forward and/or lifting them towards our ears. For brief periods of time this can cause discomfort in the muscles, but isn't an overall health concern. The issue arises when we are exposed to stress for a prolonged period of time. As we hold this abnormal posture, the muscles involved- namely the trapezius and rhomboids- stay continuously flexed, which limits the circulation in the area. When the muscle fibers have less blood flowing through them, they begin to stick together, eventually clumping into a knot. While most people know that knots are very unpleasant, the majority do not know that if a knot goes untreated it will eventually become scar tissue. With muscles being tight from knots and scar tissue, many people eventually experience limited range of motion with simple, daily activities such as lifting one's arms above their head.
Stress also pushes our bodies to release cortisol, which is a helpful hormone in the body that regulates stress; but prolonged release of this hormone can cause muscle and protein deterioration in the body. Most things are fine in moderation but once we lose control, regaining the reigns becomes more and more difficult. The best way to maintain your stress levels in your body is to have a healthy lifestyle. Massage can be an invaluable portion of a healthy lifestyle as it directly targets knots and is considered by many to be one of the best treatments for stress management.
How can you best tell what your current stress levels are? Get a massage and notice how long it takes for your mind to quiet. Some of my clients are clearly relaxed within the first fifteen minutes, while others can take up to an hour or longer to relax. Eventually, and with frequent treatment, most will begin to relax earlier and earlier into the treatment session. Taking some stress out of your body will alleviate some of the mental stress as well.

Testimonials:
"I started coming to Pete a little over a month ago. My neck, back, and legs were nothing but knots caused form hours at a computer, driving, and yes lots of stress. After just a month of coming to Pete my Pilates instructor told me she could see a big difference in my range of motion. Love my massages, but really love the change I see from working with a true professional that knows what he is doing. Thanks P. S., Rehoboth
"I had a great experience. My massage was therapeutic and relaxing. Pete is an experienced therapist and very good at describing the muscles affected and treatment. I appreciate his clinical and thorough knowledge of anatomy and therapy techniques. The spa itself is soothing and comforting. The room was peaceful and good music. Thank you."   ~Alan
"Pete proved to be a very sensitive and proficient massage therapist. He asked for feedback as to pressure and touch, but little verbal feedback was actually needed because Pete was so sensitive to the cues and responses my body provided to the bodywork. Pete gave an excellent massage, working deeply into some very blocked places without creating pain or discomfort. I felt safely held in his skillful touch throughout the massage. In summary, I am very pleased, satisfied, and grateful for my experience at Kaya. I will definitely be returning the next time I am able to get away for a few days of rest and restoration. And yoga and bodywork at Kaya will be central to my plans."  ~Cathy
Pete Lerza is the Spa Manager at Kaya Wellness & Yoga in Rehoboth Beach, DE. Pete is a Licensed Massage Therapist, Certified in Holistic Pathology. Pete also serves on the Program Advisory Committee at the Dawn Career Institute. He takes a holistic approach to helping you relieve yourself of the physical and emotional stresses of everyday life. Primarily practicing Swedish & Deep Tissue Massage, and having a strong understanding of the nature of "knots" & general wellness, Pete strives to help his clients enjoy a better quality of life. Pete uses the knowledge from his certification in Holistic Pathology to address complaints of pain with various techniques & perspectives.
For more information or to schedule an appointment, visit www.KayaWellnessCenter.com or www.PeteAtKaya.com or call (302) 227 – 3450.
Kaya Wellness & Yoga
301 Rehoboth Avenue
Rehoboth Beach, DE