To Be Or Not To Be FIT!
|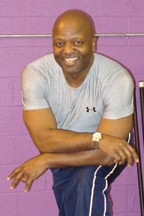 By Marcellus Beasley 
Be fit or not to be fit… That is the big question.  I always wonder why more than seventy three percent of America chose not to be fit… Hmmmmm… Most blame it on Father Time or lack thereof.  But people make time for things that are important to them.  Remember that early morning airline flight for vacation or Christmas and Black Friday shopping.  Fitness is the key to life!  And the importance of being fit cannot be stressed enough as it directly relates to High blood pressure, diabetes, heart disease, stroke, sleep apnea, joint pain and even certain cancers are risks of being unfit.  Fitness can also really play a huge role for women that have P.C.O.S. and increase their chances for fertility.  Got Thyroid?  A consistent fitness plan under the guidance of a skilled personal trainer can help get your thyroid issues under control.
At B.-FIT Enterprises they have found the key to fitness!  The key is a relaxed, positive environment that incorporates an individual workout plan tailored to your specific need.   With locations in Newark and Wilmington Delaware, B.-FIT can reach all of Delaware and surrounding states.  They are celebrating 10 years of service and trained over 10,000 clients in that timeframe.  They make working out fun but also challenging for each person to perform at a level suitable to them.  Clients range 8 years old to 88 and the workouts all differ but the bottom is the results that each and every client achieves.  Experience is also a huge factor as they have the National personal trainer of the year, Marcellus Beasley as the head of a great staff of extremely talented and passionate individuals.
Who wouldn't want their quality of life to improve?  You wouldn't have to take medicine everyday if you worked out for 30 minutes 3 to 4 times per week.  Cardio equals movement so most people just have to move more to notice a difference.  Weight training will tone and firm your body which in turn gives you more confidence that can combat anxiety and depression. Fit rolls downhill and it must start with the mindset and willingness to get fit.   Toned and fit is the new sexy. Don't wait until you get that Ah-ha moment like a heart attack or stroke or other medical aliments to start your fitness journey.  As we get older we often put ourselves lower and lower on the priority scale.  Work, spouse, parents, friends and other things are put ahead of ourselves.  Sad reality is that if you're not fit and in sound mind and body how can you effectively help others.
So who wouldn't want to B.-FIT?   Being fit is a great chance to improve your quality of life.  You have the opportunity to manage stress levels in your body which lead to internal damage.  Getting fit adds years to your current lifespan.  So you can be around to spend time with family and friends!  Weight gain or weight loss is made in the kitchen and is a direct result of food and beverage intake in most cases.  Dieting or some other drastic measure of change will only come back to haunt you later as you would probably gain the weight back and possibly add more.  Your food intake as with your workouts should be consistent and something you can maintain for the long term.
Contact your fitness professionals at B.-FIT Enterprises at 302-292-1785 located at 35 Salem Church Rd St 23-26 Newark, DE 19713 also the Wilmington location in the Independence Mall on Rt. 202. They will help you on your road to fitness in a safe and fun way.  You have to DO YOU!!!