Tips For Choosing A Tree Company
|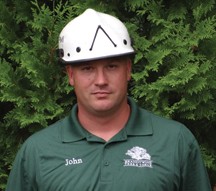 By John Fiorentino III, Owner
 Remember: you are allowing a company access to your property and if not fully licensed and insured, YOU could become responsible for their staff and compensation in the event of an accident.  You need a licensed Tree Company with Tree Service Insurance (not landscape insurance).  They need to have proof of Workman's Compensation.  Through our experience, this is where many customers are misled.  Companies can show you liability insurance, which covers your property, but not the employees. You could become ultimately responsible for their staff and their compensation.
Why Choose Brandywine Tree & Shrub
The difference is immediately noticeable.  We go the extra mile. That is the difference between our company and other tree companies.
Estimate
A friendly tree care professional will come to your residence and go over exactly how we will execute your job, no matter the size.  A printed estimate and/or email will be given on the spot.
How we Approach a Job
A foreman will come to your door to let you know our team is on site.  We will choose the least invasive route to our target, keeping your property in mind as if it was our own.  When necessary, we supply 4×8 mats on which to drive equipment in order to keep your turf safe.  Now we're getting to our target, the task at hand.  We set up our work site, staging our equipment and staff in precisely the right location to execute your job safely and efficiently, using the most state of the art equipment in the industry.  Throughout the job, the owner is on site or immediately available to make sure everything is handled as initially discussed.
The Cleanup & Billing
The work is not yet complete.  We then go through your property retracing all of our steps to ensure there are no remnants of our presence.  Exactly as discussed during your initial estimate.
Once the job is complete and you are fully satisfied, we accept all forms of payment and an invoice will be sent upon completion.
For more information please visit our web site www.brandywinetree.net  or call 302-475-7594 and ask to speak with Scott Weihermuller.
By choosing Brandywine Tree and Shrub, you will receive the highest quality of service for your money.  Guaranteed!
Testimonials
"Your team was incredible! You exceeded our expectations! So happy we found you!"  – B.G., West Chester, PA
"It was a pleasure watching your crew work. They knew exactly what had to be done and they did it in a professional manner." – E.F., New Castle, DE
"We were very pleased with the work and your friendly crew! Everything looked great and it really opened up our yard!"   – C.D., Landenburg, PA