TICK'd off: Battling Lyme Disease
|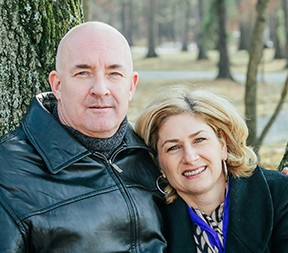 Marian Eastman, Lyme Yarnbombs, Inc. Founder/Executive Director,Yarn Addict; Lyme Advocate
Looking back to the summer of 1998, I never thought a tiny tick bite would make me sick and I would never be well again. Nor did I ever think it would take 7 years, 15 doctors, and numerous tests later to get a proper diagnosis for the cause of all my symptoms. That tiny tick gave me one big problem:
LYME DISEASE! Like most Lyme disease patients, I don't recall feeling a tick bite or seeing a rash. I just felt sick.  And the feeling just would never completely go away. My symptoms got so bad that for about 6 years I relied almost entirely on a wheel chair.
What tick'd me off was that I went through endless tests and evaluations for all types of illnesses without being given a correct diagnosis for years. No one was able to tell me the cause of my debilitating nerve pain.  Through a lab in California that specializes in tick-borne diseases, I received a positive test for Lyme. A short course of antibiotics would not work at this point.  It took years to get my pain down to a manageable level by using various treatments.
Lyme disease is the fastest growing vector-borne infectious disease in the country.  Each year, over 300,000 people will be diagnosed with Lyme disease…and that only includes the positive test results reported to local health departments.  Approximately half of all Lyme disease patients receive a false negative due to poor testing and misinformation.  By some estimates, diagnoses each year can be as high as 1-2 million.  Lab tests such as the ELISA and Western Blot are notoriously inaccurate, which is why they are only to be used in support of a diagnosis. A negative test does not necessarily mean that you do not have Lyme. Lyme disease is a clinical diagnosis based on symptoms.  Patients can experience burning sensations, joint pain, frequent headaches, chronic fatigue, difficulty concentrating, Bell's palsy, flu-like symptoms, and many more. Since these symptoms may mimic other diseases, it is not uncommon for patients to receive a misdiagnosis of MS, chronic fatigue syndrome, neuropathy, juvenile arthritis, ALS, Parkinson's, or even Alzheimer's.  For more information visit lymedisease.org
With such a high rate of misdiagnosis, many patients are ending up with Chronic Lyme Disease (CLD). I am dedicated to raising Lyme disease awareness in hopes that it could prevent someone from going through what I have. Often I am home, off of my feet, due to lingering nerve pain. I am happy to have my knitting and crocheting to keep me busy.  In May, with help from NFL Yarnivores and KTOG, I combined the things I love by "yarnbombing" 86 parking meters in Newark, DE, in lime green colors for Lyme Awareness month. Yarnbombing is a form of street art using yarn instead of paint.
On installation day, a lot of people said they knew of someone who was treated for Lyme. One student had to drop out of college because his symptoms got so bad.
Because of the interest yarnbombing sparked, my husband, Jeff and I started a nonprofit organization called Lyme Yarnbombs, Inc.   Lime green yarn, sponsors, and donations will go towards raising awareness, education and patient care funds. Volunteer knitters /crocheters and state coordinators are needed as we gear up for next year's yarnbombing events.   More towns will be added in May 2017.
Email Mimi at [email protected]