THREAD-LIFT: A New Approach For Facial Rejuvenation
|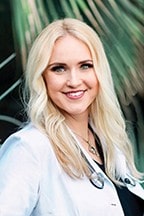 By Brandi Gregge, NP, MSN, MBA
Are you starting to see the signs of aging?
Are you developing wrinkles and folds around your mouth and nasal area?
Are you nervous that you are going to look "fake"?
Do you want to avoid "going under the knife"?
If so, PDO Threads may be an answer for you
Brandi Gregge has the eye of an artist and the skill of a master injector. At First State Med Spa she is able to combine her extensive medical expertise with the love of aesthetics. Brandi performs cutting-edge anti-aging procedures such as PDO Thread Lifts, PRP injections, Vitamin Hydration Therapy, as well as Botox and dermal fillers.
What are PDO Threads?
PDO threads are absorbable threads that are placed underneath the skin using a small needle. This minimally invasive technique lifts tissue. These threads have tiny barb-like protrusions that can suspend and lift the skin. They are absorbable over time and result in the synthesis of collagen which helps to further improve your youthful and natural appearance. 
How are PDO Threads Used?
Insertion of the threads is an easy, 30-60 minutes office procedure that can literally be done during your lunchtime. It is usually painless, but if you are nervous, a little 'laughing gas' will take care of it. In addition to the lifting type of threads, we also have threads that can be used to enhance your lip border for that extra luscious lip. Additionally, there are smooth threads that we can use to improve your skin texture and fine lines such as crows feet, "smokers lines" and the horizontal lines around your neck.
"Fusion Facelift" with Threads
Threads can be combined with Micro-Needling, PRP (Platelet Rich Plasma), and with dermal fillers to create a total rejuvenation of the skin and face which we call the "Fusion Facelift". PRP is a concentration of platelet cells taken from your blood. They are rich in growth factors that help in the healing process. With this combined approach we can dramatically reverse the clock.
Our goal is to have your friends say, "Wow you look rejuvenated!"