The Top 5 Mistakes To Avoid When Buying A Hot Tub
|
By Don Adams, Owner Clearwater Spas, Inc.  
A hot tub is an investment that you will live with for years, for better or for worse. It's wise to take the proper approach to prepare for this new addition to your family's lifestyle. In our 30 years in business, we often see mistakes that can easily be avoided with a little planning.  If you've been thinking about investing in your health, wellness, and relaxation, take note of these top 5 mistakes. The next few minutes could save you thousands.
1. Not accounting for some of the particulars
Be sure to work with a specialized dealer.  A Site Survey by a dealer can be extremely beneficial. A good dealership will be on the lookout for things you never even considered. You don't know what you don't know.
2. Underestimating the value of an energy efficient hot tub
An energy-efficient hot tub will save you money year after year. The California Energy Commission Title XX standard for manufacturers helps assure you lower costs. Be sure your hot tub is C.E.C. Title XX rated.
3. Failing to get clear on hot tub maintenance
Like most things, a hot tub requires some maintenance to function at its absolute best. Choose a dealership that offers training, ongoing support, and water testing so you can keep your water balanced and sanitized for your safety and comfort.
4. Assuming a diy installation is right for you
Professionals have the proper equipment and experience to safely deliver a bulky hot tub. Moving something this heavy without the proper expertise can be a recipe for disaster. A mistake can also void your warranty.
5. Forgetting to consider who will service your hot tub
Ask your dealer about their service department and go online to see reviews from their current customers. Most dealers won't service a hot tub not purchased from them, and many discounters offer no service at all.
A hot tub helps you de-stress after a long day, speeds up post-workout recovery, and helps enhance relationships. Taking time to make strategic decisions at the beginning pays great dividends for years to come.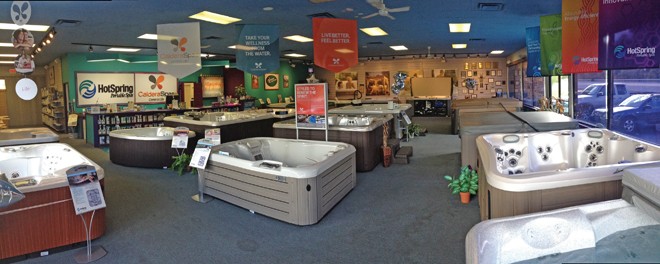 Company Bio
Clearwater Spas has a 30-year track record of excellence in customer service. They won the 2014 National Award for Retail Excellence in Customer Satisfaction. Carrying the top brands in the country—Hot Spring®, Caldera®, and Nordic® as well as Finnleo® saunas—they display more than 20 hot tubs in their showroom. Visit ClearWaterSpasInc.com for more articles and resources, or call (302) 325-8800 or email [email protected]
Testimonials
"I purchased my spa 12 years ago! These folks STILL take care of me. I had problems last night with my spa and Scott was out this morning to fix it! This is the place to get your hot tub."  – Pat, Lincoln University, PA
"Couldn't be happier with the whole process. I called on Saturday with questions about balancing my water and got good advice. Don called me on Sunday from his home to see how I was making out. This is outstanding service."  – Gary, Chesapeake City, MD
"Totally satisfied with Clearwater staff from showroom personnel to sales, to delivery, and lastly to the staff member who provided one-on-one tutoring on how to maintain our hot tub. Thanks for such great service!"  – Eileen, Woolwich, NJ