The Power Of Permanent: Lip Blushing
|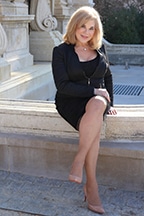 Carmella Gibellino-Schultz 
Written by Kyra Miller
Finding the perfect lip color is a constant, life-long struggle. Out there somewhere is a graveyard of dozens of lipsticks you've used over the years that just didn't look quite right. You put it on once and never used it again. Because of this, many women turn to permanent cosmetics at The Permanent Cosmetic Studio & Lash Lounge to find that perfect lip color they deserve.
A question that comes to mind for all new clients is, 'How permanent is permanent?.' Since cosmetic pigment is made of all-natural ingredients, it does fade over time. This will vary due to your skin type, sun exposure, and the use of Retin-A or glycolic products. Most clients come back for touch-ups every 1-7 years, but recently we've had clients from almost 20 years ago come back with their cosmetics still looking beautiful! Permanent cosmetics can be a life-long investment and a true gift to yourself, especially our lip blushing procedure.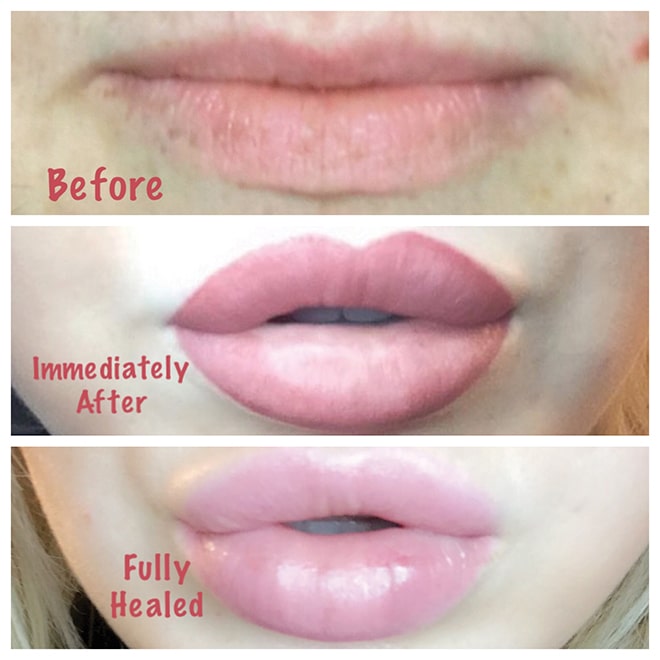 The end result of our lip blushing procedure isn't to create a dense, lipstick-type look, but to make the lip look healthier by negating the blue tint that women often have through a tattooing process, leaving the lips looking more youthful and defined. Although, if you are looking for a lipstick-type look, that is still something that can be achieved! The beauty of permanent cosmetics is that it is completely customizable to who you are.
The most important goal of this procedure is to restore the prettiest mouth that you just couldn't see due to the blurring of your natural lip line. The sun is the leading cause of losing your lip edging, but this can happen to anyone between the ages of 18-90! Many women think that getting lip filler can answer their prayers, but although filler can be a great option, they will still be colorless without permanent cosmetics.
All in all, there are so many advantages to permanent cosmetics. You will photograph beautifully and there will be no smudging or reapplying! Permanent cosmetics are a great way to simplify your life and make getting ready hassle-free. You will wake up beautiful and put together every single day. Lastly, it is also great for women who have allergies to makeup or have very sensitive skin due to our use of hypoallergenic pigments. 
Permanent cosmetics is an investment in yourself. You deserve it. Call or text The Permanent Cosmetic Studio & Lash Lounge in Chadds Ford to schedule a consultation to discuss the best path forward for you! 610.883.0636 
Bio
Carmella Gibellino-Schultz is a licensed cosmetologist and has been practicing the art of permanent cosmetics since 1999. In both Delaware and PA, she has performed thousands of procedures, and her impressive portfolio speaks for itself. Former owner of The Skin Care School and Center, her expertise and years of experience have made her the area's most sought after permanent cosmetics artist.
Testimonials
"Single best investment I've ever made on myself!"  ~ Joan L.
"It never smudges, never smears, it's always perfect!" ~ Linda S.

Referring Doctors
Dr. Abel M.D. | The Abel Center for Oculofacial Plastic Surgery
Dr. Fanny J. Berg M.D.
Dr. Peter R. Coggins M.D.
Dr. Joseph J. Danyo M.D.
Dr. Jillian Banbury M. D.
Dr. Ian M. Longergan, D.O. | Aesthetic Plastic Surgery of DE
Dr. Timothy Greco M.D.
Dr. Monica Mehring M.D.
Dr. Jonathan Pontell M.D.
Dr. Katheryn M. Warren M.D.
Dr. David Zabel M.D.
Dr. Jeffrey B. Minkovitz M.D. | Eye Physicians & Surgeons
Dr. Peter Panzer M.D. | Panzer Dermatology Assoc.
Dr. Paul Sabini M.D. F.A.C.S.
Dr. Jonathan Saunders M.D.
Dr. Ronald Lohner
Paul S. Kim, M.D.
Gary F. Wingate, M.D.
Dr. M. Stefanyszyn, M.D. F.A.C.S. | Wills Eye Hospital
Lynn Esdale RN | Lynn Victoria              
Cosmetic & Medical Skin Care
Dr. Lisa W. Hostetler M.D.
Sarah Lester, Medical Aesthetician | Delmar Surgical & Cosmetic Treatment Center.
Carol J. Hoffman MD |    Kremer Eye Center