The Fear Of The Word Hospice
|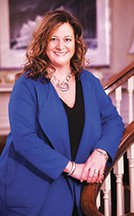 By Kristin Stetler Donovan, Owner, Age Advantage of Newark 
I can remember the words like it was yesterday. I walked from my mother's room and as I passed the nurses station they mentioned, "you may want to consider calling hospice for your mother." I remember my stomach dropping and my eyes filling with tears as I realized the reality of my mother's imminent passing. My childhood fear was soon to be a reality. Blindly I dialed the number that I was given. The person who answered was very sympathetic and kind. There was a realization on their part that I had no idea what the word hospice meant or what services were provided as a result. A kind person met my sister and I, they explained what hospice was really all about. They provide some in home assistance and monitoring, respite care and counseling. It was explained that hospice is not always end of life, but that people can come on and off of hospice services for years. There was no intent in trying to mislead us, they were clear that our scenario was not one that would go on for years. We were completely exhausted and drained from caring for our mother at home for such an extended period of time. Fatigued from the frequent and prolonged visits in the hospital or the rehabilitation communities where my mother briefly stayed after her hospitalizations. My sister and I were faced with providing 24-hour care for our mother with stage four kidney failure. With my sister's work demands and my three small children it was nearly impossible to provide the level of care she needed. Once we were introduced to the hospice concept we took advantage of the five-day respite that was offered, in which she would be transported to an inpatient unit to give us an opportunity to recharge and develop a strategy of how to care for her intensive needs.
On the second day we were told that there were non-medical home care options, something of which we had no knowledge of prior to the education that hospice provided. Unfortunately, we never had the opportunity to even contact any of those agencies as we were told she had approximately one to two weeks to live. The next seven days were surreal. To this day I say that it was the most horrific and amazing life changing days. The staff that cared for my mother, each one seemed almost angelic. So very compassionate and they treated my mother with such dignity and respect until the very end. They talked to you, hugged you, educated and prepared you as the disease rapidly progressed. The atmosphere was comfortable and homey. The staff made you feel welcome and checked in on your comfort and well-being, even overnight. The smell of fresh baked cookies lingered and it didn't remotely feel like any place other than home.
I share this story for many reasons. Hospice is foreign to some and feared by many. I was one that both lacked knowledge and feared hospice. What started as a fear became a comfort, knowing my mother was not in pain and a relief, knowing she was getting such amazing care. Care that was beyond what I or my sister could offer given her cognitive and physical decline. I will be forever grateful to the staff of that hospice organization. Not only did they help my mother and my family in so many ways, they were the inspiration for my quest to help others that feel as confused and overwhelmed from caring for a loved one. They were my inspiration to start an agency that helps people that are unsure where to turn and where to get respite from the emotional and mental fatigue that accompanies being a caregiver for someone. My goal, life's mission and dream is to help those that need support within their homes or residences or simply to share my personal experience and educate about the options that may exist to help care for your loved one in the best possible way for them and for you. My goal is to provide the quality of service to people at home that I witnessed from the staff within that hospice, compassionate, caring and preserving dignity. My life was forever changed from my experience and again I will be forever grateful. If you would like more information about home care please contact us 302-722-8240 and our office staff would be happy to assist you.
Thank you – it'll certainly be odd not having you as part of our lives. You guys are like part of the family at this point. If we ever need services like this again, you can be sure we'll call on you. Thank you doesn't say enough – you all have bent over backwards for us in very stressful times. This went well beyond a business transaction in my book. Thanks again – K.