The Drunk'n Baker – A New Year's Resolution
|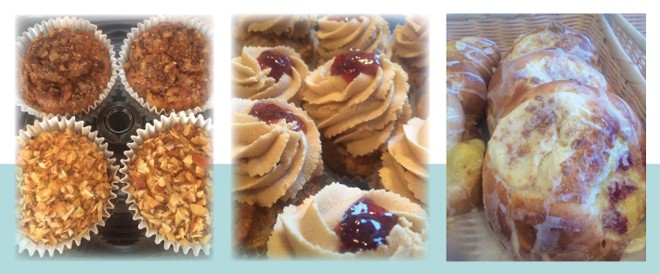 It's that time of year again. Most of us make some kind of New Year's resolution or in the very least we attempt to make the changes we seem to think we need to make about ourselves whether it is to lose weight, eat healthy or get better organized. Well it's no different for businesses. The New Year is the perfect time for small businesses to look at the past year and see how things were done and where changes need to be made.
Here at the Drunk'n Baker it's even more important for us to take look back, evaluate, and then move forward, since this was our first year being open. Where do we make the changes and how can we continue to improve upon our business to bring a great product and service to our growing customer base? We certainly have had some wonderful customers that have kindly offered constructive criticism that we were happy to listen to. There have been some changes in staffing that should allow us to offer even more variety in our product line as well as putting a plan together that will increase our bread production and selection. Also, in addition to the daily chicken salad lunch special, we have been rolling out a second or even a third special of the day for customers to enjoy.
As we enter into 2016 The Drunk'n Baker will be adding more music events scheduled for Friday and Saturday nights. Our plan is to offer more of that coffee house atmosphere with an alternative to the bar scene for some live music. Follow us on Facebook to keep up with our scheduled performances https://www.facebook.com/DrunknBaker.
In addition, we've added more breakfast-like items especially on weekends. You can get our giant cinnamon buns and sticky buns on weekends. We've been testing some breakfast pizzas as well as trying different treats to see what our customers are like best.
However, you won't see traditional breakfast sandwiches or full breakfast servings- not what our bakery is designed for. Though we are always looking for ways to bring you wonderful options all hours of the day!
The Drunk'n Baker is in the process of partnering with Birch Tree Bakers to provide gluten free products. We've already had our first delivery that went over well with our gluten free customers that have been patiently waiting for this to come about. The first shipment included cupcakes, brownies, muffins, breads and two types of dessert cups. We look forward to continuing our relationship with Birch Tree Bakers and expanding the selection offered. Keep checking in with us to see availability and selection. Our goal is to have it daily but with any new venture it takes a little time to get it off and running.
Our next project is to add some sugar free choices. Flavor is a top priority and we are working to bring you the most flavorful sugar free products possible. So, when we have the best sugar free products possible they will be added to our menu and not before.
You asked so we made it happen. As of January 1 we changed our hours. We are now open 7 days a week for the winter.
Monday thru Thursday 6:30 am to 6:00 pm
Friday and Saturday 6:30 am to 9:00 pm
Sunday 8 am to 1 pm
Call 302-389-6807 to place orders.
Valentine's Day is just around the corner so make sure you place your order for your sweetheart's special treat. And St. Patty's Day should be a blast as that time lends to some wonderful dessert pairings with alcohol. Spring will be here before we know it which means Easter will be a fun dessert holiday and a great time to see what the bakers come up with.
As always, we take special orders for cakes, cupcakes, breads and specialty desserts. Most orders only require 48 hours notice but the sooner the better as our baker's schedules fill up quickly.
We want to thank our wonderful customers who have made our first year in business a huge success. They happily gave us input on menu items helping us to make necessary and welcome changes. We always strive to offer a good and fresh product. Baking truly is a science that we have quickly learned is affected by everything from who is baking to  the building or space you are baking in. We are looking forward to good things coming from our kitchen and hope you will continue to join us.