Stretch Your Celebration
|
By Heather Diamond, e-ryt 200
Founder, Ananda Wellness & Yoga
Rehoboth Beach, DE
If you're headed to the beach with your family or friends, start your weekend out right with a fun, energizing and relaxing yoga session.
Can you imagine a better way to celebrate a birthday, wedding, anniversary, graduation or reunion for a person who loves yoga than to enjoy yoga on the beach overlooking the rolling ocean waves? Getting to spend quality time together as a group? Or floating on the Rehoboth Bay trying out yoga poses on a stand up paddle board? Or flowing through yoga together on your rental home's balcony before you head to the beach for the day?
One thing is certain, these experiences are always memorable and usually filled with fun & laughter. Quite often we get to see dolphins in the distance, frolicking in the waves while we stretch, breathe, and laugh our way through yoga sequences.
I am blessed to get to spend many of my days on the beach or on the bay leading fun group yoga sessions each summer at the Delaware Beaches.
So, whether your group is full of experienced yogis & athletes, or whether many (or all) of the group have never even tried yoga, I am happy to tailor your yoga or stand up paddle board yoga to your needs and desires.
These yoga sessions are so much fun and will be catered to you. They may also include group postures, aromatherapy, or cold towels to cool off on a hot summer day. And you will always get to enjoy yoga postures, deep relaxation and likely some fun pictures!
You'll be reminded why you are celebrating as you breath and laugh with your friends.
You can choose to make even better memories and to strengthen the bonds of family and friendship in a meaningful and lasting way. So, the next time you're ready to celebrate or just enjoy some quality time with your group – what will it be?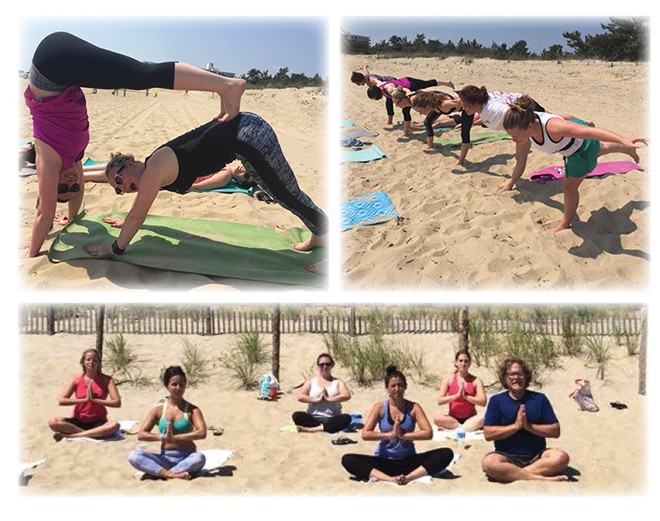 About Heather
Heather Diamond is a Yoga Alliance Certified 200 e-ryt and Licensed Massage Therapist who has been leading group beach yoga classes at the Delaware Beaches for 10 years, and Stand Up Paddle Board Yoga for 4 years. She is trained in many backgrounds of yoga and is happy to tailor private group lessons to your groups' needs. From gentle and restorative yoga, to challenging and sweaty, your group will get just what they need to make your experience memorable and fun.
Heather is the founder of Ananda Wellness & Yoga, as well as VaihAyasa Aerial Yoga, and she is the former owner & founder of Kaya Wellness & Yoga. She is happy to help you organize your celebration with yoga, and you can even add on massage at your location for an extra special treat!
Testimonials: 
"Great personalized experience, you made a great match for us – an instructor that perfectly met our needs. Our time was the highlight of our long weekend!"  – Jenny
"The girls at the bachelorette party had a great time! Thank you again for coordinating everything with us and making the suggestion about getting yoga mats in the bride's wedding color! Thanks again."   – Shelley
To Schedule Your Private Group Beach Yoga, or Stand Up Paddle Board Yoga
At the Delaware Beaches
Call Heather with Ananda Wellness & Yoga
302-362-7676