Social Media For Your Personal And Professional Life
|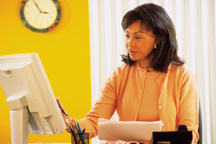 By Nora Riehl Zelluk
Facebook and other social media are a hugely popular and fun way to keep in touch with family and friends and express ourselves online. In fact, Facebook users now number well over a billion; Twitter users around half a billion.Social media expert Meredith Chapman offers some valuable tips for how we can assess our individual social media presence as it relates to both a personal and a professional environment, by calling attention to the following aspects of being professionally "S.O.C.I.A.L."
Settings:
Optimize your friend lists and privacy settings. In Facebook, you can create lists to organize "personal" and "professional" friends, and post selectively to them.
Ownership: Be aware of content ownership issues. Did you know that even private content is archived and can be shared?
Content: Ask yourself, "Is this post appropriate to share with my parents or future employer?" Avoid oversharing, which includes both personal and professional information.
Investigate: Do you know how your profiles look to the public, and online friends? Learn how to use privacy settings, including how to block users and untag yourself in posts.
Associations: What type of people and organizations are your online friends? Consider your public affiliations, e.g. friends, pages, groups.
Legal policies: Does your company have rules about social media use? You might want to include a disclaimer in your bio, such as "Thoughts here are my own" or "This is a personal account."
To learn more about effectively using your social media account, Chapman recommends visiting Mashable.com for its selection of resources covering social media and technology topics, with articles like "The New Facebook: How to Take Control of Your Privacy."
Meredith Chapman is a senior news editor at the University of Delaware, overseeing social media as well as regional media relations. Chapman began her career in television as a reporter and producer at WHYY-TV, a Philadelphia-based PBS affiliate, and has also served as a communication manager in the U.S. House of Representatives. Chapman has been nationally recognized for her social media accomplishments and was named a top Social Media Professional by PR News.
Chapman is the program director and lead instructor for the new Social Media Marketing Strategy Certificate program at the University of Delaware, designed for businesses and organizations who want to use social media to help promote their products and services.
For details about the program, visit www.pcs.udel.edu/socialmedia/ or call 302-831-7600