Soaking In Hot Water: Healthy and Healing
|
By Don Adams, Owner Clearwater Spas, Inc.  
Special Offer
 Send us an email to [email protected], mention the Women's Journal and we will send you "How Hot Water Helps Your Heart Health".
Discover "Your Destination for Relaxation"
Visit our website www.ClearwaterSpasInc.com and plan to visit our showroom at 226 Churchmans Road, New Castle, DE 19720 where you will find a variety of hot tubs, saunas and related products on display.
While it's very relaxing to get into a warm tub filled with bubbling water, the health benefits are great.  Relaxation of tense muscles and quieting of the mind are only the beginning.
Those beautiful bubbles combine with swirling motion to produce pain relief and increase flexibility for arthritis sufferers as well as others who have physical challenges.
It's a well-known fact that hot tub soakers sleep well.  A 15 minute soak in a hot tub before bedtime can be a natural way to achieve restful sleep without the use of drugs.  Most hot tub soakers awaken in the morning with a clear head, feeling refreshed.
Did you know that you can help your body prepare for a deep and restful sleep without medication? According to a report in the scientific publication Sleep, your body can be eased into a state of deep and relaxing sleep by a drop in body temperature after going to bed.
Doctor's prescriptions for hot tub relief are on the rise as hot tubs are now accepted as therapeutic devices with the warmth helping move body fluids within the muscles. Because of the buoyancy you're not fighting gravity and this eliminates stress on your body.
The massage action improves circulation and also relieves muscle spasms. Moist heat helps with tendonitis because the heat makes collagen more stretchable and increases blood flow to improve healing.
Hydrotherapy is a form of physical therapy also known as aquatic therapy where water revitalizes, maintains, and restores health. Warm water makes moving safer with gentle resistance and soft pressure on the body.  It also provides safe cushioning for stressed or fragile bones.
www.ClearwaterSpasInc.com               302-325-8800               226 Churchmans Road, New Castle, DE 19720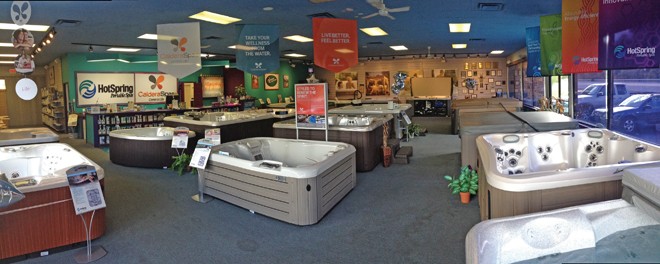 Company Bio
Clearwater Spas has a 30-year track record of excellence in customer service. They won the 2014 National Award for Retail Excellence in Customer Satisfaction. Carrying the top brands in the country—Hot Spring®, Caldera®, and Nordic® as well as Finnleo® saunas—they display more than 20 hot tubs in their showroom. Visit ClearWaterSpasInc.com for more articles and resources, or call (302) 325-8800 or email [email protected]
Testimonials
"We are very happy with our purchase. They were very professional with the installation, and with providing technical support. This is our second hot tub purchase from Don!"  – John and Cathy, Clayton, DE
"We're so delighted with the spa and it has taken all the pain out of the muscle in my back that is a result of the scoliosis."  – John and Natalie E., Satisfied Customers
"You have been a pleasure to do business with!  The spa has been trouble free for the four plus years we have had it.  Should we ever be in the market for a spa in the future, this would be the only spa store we would consider."   – Leroy P., Satisfied Customer