"Shasta Shutterbug" . . . a must have at your next event!
|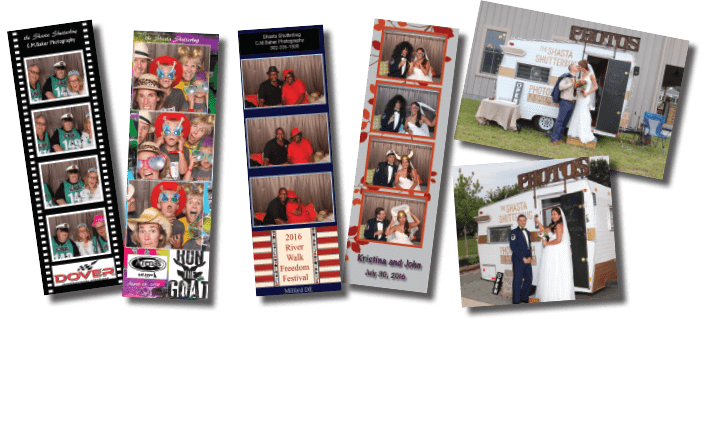 "Shasta Shutterbug" camper photo booth was an idea I saw online from California and Florida. My niece had sent a couple of pictures to me, and I started to research. It's also something popular in Europe. Most of those are from the back of a VW bus or a similar vehicle. I initially saw this 1969 Shasta Compact Camper for sale about a year ago alongside a local road. Not knowing what I could do with it, I somewhat shelved the thought of buying it. After I had seen these ideas online, I knew I needed that "Shasta". I was sure it was gone eight months later. I took a 15-minute drive where I saw it previously. There it was still sitting there waiting for me. I immediately jumped on the idea. I purchased the camper and started looking at different ones all over the US. There are not many out there, but I think it will grow. I never realized how big photo booths are. I shoot many weddings throughout the year and starting noticing the appeal.  I figured photo booths would be more of a short-term fad and dwindle away. Not true! They are getting more and more popular.
So this was my winter project!  Not having any idea what to do, I had my daughter, Courtney, do the designing as I did the engineering and labor. My 21-year-old daughter knew what was "in" more than I did. She was attending UD while I worked on it and came home to check on it (and my work). I was blessed with a relatively warm fall and winter. I gutted it.  You never know what's underneath until you start pulling it apart. I replaced some rotten walls and rotten floors from 47 years of weathering. Put new ceiling and wall coverings with a hardwood floor. It is decked out with a stereo system inside and outside. The photo booth is built to fit in the area that is left.
Since the start of the "Shasta", we have been enlightened with the endless possibilities for what and where we can be involved.  We started this near the end of April and have been busy almost every weekend.  These are just a few places where we have been:
Dover International Speedway
Southern Delaware Heart Ball Gala
Grand openings for new businesses
Arena's 5K Goat Run
Numerous birthday celebrations
Maple Dale Country Club wedding
Harvest Ridge Winery Wedding
Pizzadili's Vineyard wedding
A barn wedding in Lewes
Peninsula Oil Company Pic'n
I G Burtons 2 Chamber Mixer (CCGM and CDCC)
Dover's Capital holiday celebration
Dover Federal Credit Union's facilities at Dover and Dover Air Force Base
Milford's 2016 River Walk Freedom Festival
…Just to name a few
For advertising purposes a corporate or company logo and/or text can be printed however the client wishes.  These pictures always hang around and the company info is right there with it.  Endless possibilities !  We are booking many weddings for 2017 and are very excited with the incoming year of 2017.  Prices can be obtained by contacting us on our website at www.cmbaker.com.  Call us with any questions you may have.  We cover all of Delaware and parts of neighboring states.
Mike Baker is the founder of C.M.Baker Photography with over 25 years experience.  His photography ventures have been quite diverse. Throughout the year you may find him shooting a wedding, a Quinceañera, in the pits of a NASCAR race at Dover Downs and now at front stage at the Firefly Festival or flying over doing aerials.  Giving back to the community has always been an important part of it all.