Risk Of Cancer From A CT Scan
|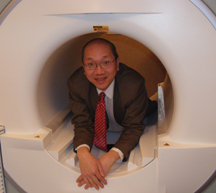 By Dr. Philip Chao
Radiation exposure from CT scans may account for up to 2% of all cancers in the United States, but a new study finds patients tend to underestimate their lifetime risk.  Dr. Cook-Shimanek, the study's author states:  "I would recommend that providers optimize their own understanding of CT-related risk in order to best inform and educate their patients as they share in the decision to pursue such imaging studies" When patients were informed there might be a 2% overall lifetime risk of developing cancer from CT scans – they preferred not to have CT scans done.  Most doctors do not inform their patients of this risk.  The recent study showed that not only did patients not know that MRI does not expose a patient to ionizing radiation, they actually thought MRI had more radiation than CT.
So this basic misunderstanding is why doctors generally order too many CT studies and too few MRI studies.  Dr. Chao cares about EVERY PATIENT AND HAS 27 YEARS EXPERIENCE in reading MRI studies.   Please call him and ask questions.
Our OPEN MRI is super HIGH quality.  It sees abnormalities that the other 1.5T scanners in our state*(closed units) miss.  In fact, MRI is also in some cases superior to CT.  Just today, we saw two pelvic fractures in an elderly lady that were missed by CT.
Our BEST OPEN MRI is superior to most CLOSED MRI scanners with the exception of four 3T MRI scanners in the state.  We own two of the four 3T scanners and also have 7 years experience with 3T imaging.
3T MRI is the highest quality MRI you can get.  If you come to our closed MRI scanner and can't do the test because of claustrophobia,  we are the only provider in the state who can instantly switch you over to our state of the art 1.5T 70 cm OPEN BORE MRI scanner.  We have a super high quality OPEN MRI next to a closed MRI.  There are only 4 3T MRIs in the state of Delaware.  Ours is the only one which offers this quality for 500 dollars.  Our 3T Trio is the only closed 3T next to a super high quality OPEN MRI.  Our OPEN MRI pictures are guaranteed to be as good as other CLOSED MRI pictures.  All units are ACR accredited.
Dr. Chao also wants to provide services which the other facilities don't even offer.  Things like metal subtraction imaging.  Indirect arthrography.  Super high resolution studies – which can only be done at 3T.   Diffusion tensor imaging which picks up subtle brain trauma, alzheimers and autism.  Proton spectroscopy.  Prostate MRI.  Prostate  spectroscopy.  3T Breast MRI which is 100% sensitive for breast cancer.  And we also offer our super high quality studies for only 500 dollars for non contrast studies.   Our abdomen study for 500 dollars is able to pick up smaller pancreatic cancers, smaller liver cancers and includes diffusion weighted imaging for free.  This new technique is up to 96% sensitive for cancer.
We try to help everyone by using the safest MRI contrast.  Our contrast agents are the safest in the world and cost a little more but we ABSORB THAT EXTRA COST BECAUSE WE CARE. (www.safecontrast.com).  Sadly, the three contrasts (Multihance, Prohance and Eovist) that have never been linked to this disease ("NSF") are not even carried by most MRI Providers who do not want to pay for it.  Ask your MRI Provider which contrast they use!  We only use safe contrast!  We pay extra to be safer!
REVEAL (DWI) shows cancers as "light bulb" lesions.  Your doctor may not be aware of this revolutionary scanning technology.  Most of the research on this excellent technique can be found by a simple web search—for diffusion weighted imaging of cancer.  The large cancer shown above was found to be malignant by this technique without any injections.  The ultrasound and CT were a waste of the $1000 they cost.   They were inconclusive.  The MRI cost 500 dollars and was superior to both the CT and U/S without contrast.  One could have saved 1000 dollars on this patient.  Multiply that over 300 million people and you can see how good quality MRI can save us money.
Because of its extraordinary (100%) sensitivity to Breast Cancer, we generally prefer to do Breast MRI's on our 3T MRI, but for someone who either will not fit, or who is extremely claustrophobic, our 18-channel 1.5T OPEN BORE MRI is a good alternative.
Ask questions.  Get the best.
More information can be found at www.mriconsultants.net  and www.bestopenmri.net, or www.safecontrast.com
Dr. Philip Chao graduated Phi Beta Kappa from Yale University and was Scholar of the House. He continued his studies at the University of Rochester School of Medicine and Dentistry, receiving his medical degree in 1983. After a transitional internship year at the Mary Imogene Bassett Hospital in Cooperstown NY, Dr. Chao did his residency in Radiology at Brooklyn's SUNY Health Science Center (1984-1987), where he became Chief Resident. He stayed on to complete a fellowship in Neuroradiology (1987-1988). Dr. Chao has been interested in MRI technology since its very beginning – the first MRI scan took place in 1981 while he was pursuing his medical studies. The University of Pennsylvania, where Dr. Chao was both a Body MRI Fellow (1988-1990) and a Neuroradiology Fellow (1989-1990), was at the heart of the development of this technology and Dr. Chao was able to work with pioneers in MRI on the first GE Signa 1.5T (tesla) scanner. His advanced research and specializations complete, Dr. Chao left the University of Pennsylvania for a position as Director of MRI in Wilmington DE – a position he held for 14 years. Dr. Chao eventually left that position to create the best MRI center in Delaware, using the very latest technology: 3T MRI. While 3T (tesla) scanners have been used for scanning research patients since 2002, these advanced, more powerful MRI scanners only became available for clinical use in 2004. Dr. Chao worked hard to bring 3T technology to Delaware and in February 2007, MRI Consultants, LLC began operating the first 3T scanner in the State. 3T is the newest horizon for MRI.
Best Open MRI
302 838 7800