Optimizing The Treatment Of Spider Veins:
|
 A Three-Tier Approach
Patients often walk into our office with spider veins, expecting a few injections to cure them instantly. But even though they may look innocuous, spider veins are often indicative of venous insufficiency in deeper and larger veins. For this reason, we try to determine if there is an underlying problem contributing to your spider veins. Depending on the clinical presentation, the doctor may or may not recommend an ultrasound examination to rule out a deeper underlying problem.
What is Venous Insufficiency?
Healthy veins carry blood through a series of one-way valves. These valves allow blood to flow from superficial to deeper veins and then to the heart. Normal one-way valves prevent back flow; defective valves allow blood to flow backward and pool inside the veins. This is venous insufficiency. As blood pools within the veins, pressure builds up and the vessel wall weakens and the veins tend to distend, bulge and twist.
Tier I. Spider Veins (SV's) are red, purple, or blue fine lines appearing in a starburst-like cluster or a web-like maze near the surface of the skin, measuring between 0.3 and 1.2mm in diameter. Most SV's are caused by venous insufficiency involving deeper veins.
Tier II.  Reticular Veins (RV's) are larger (1.5-2.5mm in diameter) blue or purple veins which may or may not protrude and bulge. Incompetent reticular veins are often associated with SV and may also be indicative of an underlying deeper vein's insufficiency.
Tier III.  Deeper Vein Insufficiency may involve the great saphenous vein, small saphenous vein, accessory saphenous veins and perforating veins. They often result in Varicose Veins, which are enlarged, swollen, bulging, often twisted rope-like veins that occur on the surface of the legs and thighs.
The choice of treatment depends on which tier your veins fall into.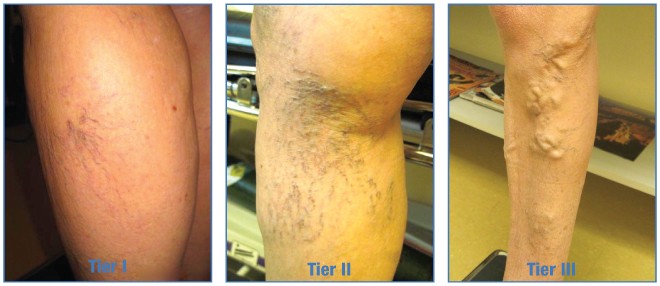 To Treat Superficial Spider Veins with no Underlying Problems (Tier I) You Only Need One or a Combination of the Treatments Below:
Sclerotherapy – Involves injecting the SV with a chemical solution (sclerosant), which causes the walls of the vein to stick together, scar up and eventually be reabsorbed by the body. It is ideal for spider veins 0.8-1.2mm in diameter.
Ohmic Thermolysis "VeinGogh" – Relatively new treatment, done by placing a tiny needle on the SV and focusing radio frequency energy into it.  It is safe for all skin types; and is best treatment for small reddish veins.
Light Heat Energy (LHE) – Effective for the treatment of tiny veins or matting which looks like bruise-like patches or staining of the skin.
When Spider Veins Begin from Reticular Veins (Tier II), We First Apply One of the Treatments Below:
Foam Sclerotherapy – Injection of the reticular veins with a mixture of a sclerosant agent with C02.
Mini-Phlebectomy – A delicate surgical removal of the small bulging veins
When Spider Veins Originate from Deeper Veins (Tier III), Treatment Should Begin With Either:
Endo-Venous Laser Ablation – "The Closure Treatment" – Heat emitted from a small laser fiber closes incompetent great, small, or similar veins from the inside. This treatment is usually paid for by health insurance.
Ultrasound-Guided Sclerotherapy – applicable for the closure of incompetent perforating veins. It involves using an ultrasound machine to find the vein and then injecting a sclerosant to close the vein.
Testimonial
I called First State Vein and Laser MediSpa just before my medical benefits were about to expire and told them about the pain in my legs. The staff there was so helpful and arranged for me to get in to see the doctor before my insurance expired. Dr. Shapira spent a great deal of his time with me and explained in detail about the procedure.  I received great service and very special care during and after it. I feel much better now than I did before; I do not have any pain in my legs and no swelling. I am sure I will be wearing shorts very soon, as I was always hiding my veins with pants even in the warm weather. I am very pleased with the service provided by Dr. Shapira and his staff.  Thanks a lot to you all.  – N.B., Wilmington, DE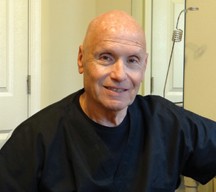 Nadiv Shapira MD, FACS, FACPh, founded First State Vein & Laser Medi-Spa, after practicing cardio-thoracic surgery at the Christiana Care Health System for almost 20 years. He offers in-depth evaluations and office procedures for varicose and spider vein treatment, SmartLipoTM Body Sculpting, Botox®, Dyport®, and dermal fillers.  Our licensed estheticians specialize in skincare treatments such as Viora ReActionTM skin tightening, facial peels, waxing, facials, laser hair removal, and photo rejuvenation.