No Pain, No Gain, Is Simply Insane
|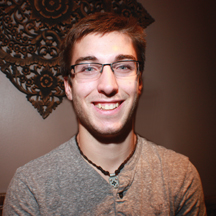 By Pete Lerza LMT, NCTMB, CHP, Manager
Kaya Wellness & Yoga
How many times have you received a massage and have been in excruciating pain, both during and after the session? The typical explanation that you will be given is  "there are just so many toxins in you and we must push them out," or, "I'm helping break up the adhesions to promote blood-flow."
On the face of it, this all sounds logical, which is surely why the idea of "no pain, no gain" has spread like wildfire. However, if we think about it critically, we quickly begin to see the flaws in this particular paradigm.
The first aspect of the session is the pain that is inflicted due to the heavy pressure. While some people, because of their high threshold for pain do enjoy this, the majority of people do not. Acknowledging this aspect, and that most tight muscles come from stress, how can you expect to relieve pain in someone who is experiencing the pain because of their stress, without actually allowing them to relax in the first place?
After considering the mental aspect of these painful sessions, we have to look at the muscles, because they are the star of the show. When applying great amounts of force to a muscle, it is the natural reaction of our bodies to go into "self-defense mode". When this happens, the muscle flexes and makes it more difficult to work more deeply into the layers of tissue. Because of this, now your therapist has to use even more pressure, is damaging muscle tissue, and most likely not capable of reaching the actual cause of the problem.
Finally, we have the great reason behind this idea: The pressure helps move "fresh" blood to the area. This is true. When we apply pressure to an area, the brain receives signals from the area and then sends oxygenated blood to the region in order to help heal. The flaw in the "no pain, no gain" plan is that pain is applied everywhere. Understand that our bodies have a finite amount of blood in them, and redistributing blood throughout the entire body must require rationing blood in other parts. This flawed concept is why some people even get sick after receiving a traditional deep tissue massage.
What is the alternative? We need to know how the body works and use that to our advantage, but in an educated and beneficial way. In my sessions I begin by using gentle strokes. This "wakes up" the muscles and also allows me to survey the landscape in order to know which areas will need the most attention.
Following this opening technique, I begin to work out superficial knots. I do this by first pinpointing the tendon in the area and applying pressure to it, which makes the muscle think that you are stretching. This relaxes the muscle. This allows you to withstand more pressure (which is why some people believe that my deep tissue is "light") while also allowing me to work more deeply into the tissue without any self-defensive resistance.
Of course, every once in a while, an area will need more pressure to receive benefit. However, since the blood isn't being evenly distributed through every area, as in the "no pain, no gain" technique, more pressure will benefit the muscles that truly need it.
This tendon targeting technique that I use allows muscles to separate and act more efficiently without sending the body into a frenzy. I understand that some people simply enjoy more pressure, but working slowly into the muscle will grant the best and longest lasting benefit-Not to mention all of those endorphins that are released when the tendons tell the muscle to stretch!
SPECIAL for this issue: $99.98 for any type of one hour massage plus two yoga classes. Aerial or regular.
Contact [email protected] with anyway questions, comments, or concerns.

Testimonials:
"I started coming to Pete a little over a month ago. My neck, back, and legs were nothing but knots caused form hours at a computer, driving, and yes lots of stress. After just a month of coming to Pete my Pilates instructor told me she could see a big difference in my range of motion. Love my massages, but really love the change I see from working with a true professional that knows what he is doing. Thanks P. S., Rehoboth
"I had a great experience. My massage was therapeutic and relaxing. Pete is an experienced therapist and very good at describing the muscles affected and treatment. I appreciate his clinical and thoroughknowledge of anatomy and therapy techniques. The spa itself is soothing and comforting. The room was peaceful and good music. Thank you."   ~Alan
"Pete proved to be a very sensitive and proficient massage therapist. He asked for feedback as to pressure and touch, but little verbal feedback was actually needed because Pete was so sensitive to the cues and responses my body provided to the bodywork. Pete gave an excellent massage, working deeply into some very blocked places without creating pain or discomfort. I felt safely held in his skillful touch throughout the massage. In summary, I am very pleased, satisfied, and grateful for my experience at Kaya. I will definitely be returning the next time I am able to get away for a few days of rest and restoration. And yoga and bodywork at Kaya will be central to my plans."  ~Cathy
Pete Lerza is the Spa Manager at Kaya Wellness & Yoga in Rehoboth Beach, DE. Pete is a Licensed Massage Therapist, Certified in Holistic Pathology. Pete also serves on the Program Advisory Committee at the Dawn Career Institute. He takes a holistic approach to helping you relieve yourself of the physical and emotional stresses of everyday life. Primarily practicing Swedish & Deep Tissue Massage, and having a strong understanding of the nature of "knots" & general wellness, Pete strives to help his clients enjoy a better quality of life. Pete uses the knowledge from his certification in Holistic Pathology to address complaints of pain with various techniques & perspectives.
For more information or to schedule an appointment, visit www.KayaWellnessCenter.com or www.PeteAtKaya.com or call (302) 227 – 3450.
Kaya Wellness & Yoga
301 Rehoboth Avenue
Rehoboth Beach, DE