Multitasking-Mama . . . Self-Care Is Key!
|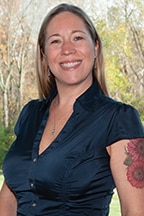 By Melissa Moulder-Condit
In today's world, more times than not, life can be overwhelming with the neverending to-do list. Along with all the jobs we have: parenting, your career, the house, and all the things in between. The title is focused  on Mamas because this is "The Women's  Journal," but let's not forget those Multitasking-Dads too . . . I am lucky enough to be married to one. 
It took me years of being a Mom to realize that self care is not selfish, but just the opposite. It is extremely necessary! The saying "You can't pour from an empty cup" is very true. Taking care of yourself only makes you able to really care for those you love in the best way. 
I know it's easy to say, but personally I practice what I preach by getting regular massages, working out, and allowing myself downtime without any guilt! 
Whether a Mom, Dad, or just a human, allow yourself that time to do something that makes you take a deep breath and just be in a relaxed state of mind. 
I love the zen space I have built for my business. Having my clients come in for an appointment and leave a little less heavy and a bit more relaxed is just one reason I love my job! 
A massage, facial, or the best of both; 90-minute Massage and facial combo, is a great way to recharge! My skin care line is Eminence Organic skin care. The products speak for themselves. You will leave with your skin feeling refreshed, your body relaxed and your mind more at ease! 
For more information please call 302-293-7240 or visit us on the web at www.intuitivewellness.com.
Testimonials
"I have been going to Intuitive Wellness since the start of my second trimester for prenatal massages. I am thrilled with my massages from Melissa. She is very kind, considerate, and knowledgeable. The setup is fantastic and she makes sure to check that you are comfortable throughout the massage. I always leave feeling nice and relaxed. It's a wonderful experience all around and I cannot recommend her enough!" ~ R.R.
"I send my mamas to Melissa all the time! She is an amazing massage therapist and the best at prenatal. I truly trust her! Call today, you will not be disappointed." ~ Dr. Andrea Moses
Melissa Moulder, Owner / Massage Therapist / Esthetician
Intuitive Wellness
2006 Foulk Road, Office Park Suite F, Wilmington, DE 19810
302-293-7240