Morris James LLP Welcomes A New Attorney To Our Personal Injury Group
|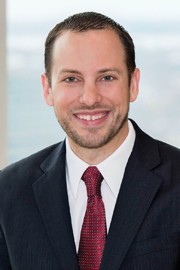 Steven L. Butler, Esquire
The Morris James Personal Injury Group welcomes a new associate attorney, Steven L. Butler, who will be bringing Social Security disability representation to the group and will assist us with plaintiffs' personal injury cases. Steve brings over a decade of experience representing disabled individuals before the Social Security Administration. He has been recognized for his work in this area by being selected to the Lawyer's Choice List as a Top Lawyer in Social Security Disability from 2013-2015, and being selected to the Delaware Rising Stars List by Super Lawyers from 2013-2015.
Steve enjoys that his Social Security disability work allows him to directly assist individuals that have become unable to work because of serious medical conditions and injuries, and provide them with guidance during a difficult period of their life.  He is excited that by joining our group, he will be able to continue to work in this area, while also expanding his practice to new areas so that he can help additional people and provide more services to those most affected by injuries.
He enjoys spending time with his wife and children, running, rooting for the Philadelphia Eagles, and listening to live music.
Steve's philosophy about representing clients is to treat each client with the honesty and respect that he would expect if he were in their position.  His goal is to understand his clients' problems and expectations, and to provide them with the best guidance for a positive resolution of their matter.
Our entire Personal Injury group of attorneys are very excited to welcome an experienced new team member who provides us with an opportunity to expand services offered to our clients and who shares our guiding principle of being a compassionate listener and striving to achieve the best result possible for our clients.
The Delaware personal injury lawyers of Morris James LLP understand that being injured in an accident can be a frightening experience, especially when someone else's negligence caused your injuries. You may be facing medical bills, lost wages, and other significant expenses, all because of someone else's carelessness.  We frequently see victims who are injured because another driver was using a mobile device, disregards a red light or stop sign, is distracted by passengers, speeding, or is otherwise inattentive.
At the Delaware Personal Injury Group of Morris James LLP, our compassionate attorneys understand how difficult it can be to live with an injury. That is why we have dedicated ourselves to getting our clients the money they and their families need and deserve.  If you have been injured in an accident, we will carefully review with you all insurance benefits to which you are entitled. If you are unable to work because of your injuries, or any other serious medical condition, we will review the Social Security disability process with you and help you navigate through the application process.
If you or a loved one is injured due to another person's negligent or reckless conduct, or is unable to work because of a serious medical condition, you need to know exactly what claims you can present to insurance companies under Delaware law, and whether you have a claim for Social Security disability benefits while you are unable to work.   Do not let your rights be taken advantage of.  Discussing your case with a dedicated Delaware personal injury attorney to become educated concerning your rights may be your first step towards securing justice and compensation.
For more information visit our website www.morrisjames.com.
Download our phone app, available for iPhone and Android users, that provides access to the tools and information you will need in the event of an accident. The app features a Live Chat component, allowing you immediate contact with a live person 24 hours a day, 7 days a week. Locate our app by searching "Morris James" in iTunes or Google Play.

Susan D'Alonzo Ament is a partner with Morris James LLP and has practiced for 30 years representing personal injury victims. Over the years, Mrs. Ament has found that some women don't understand the crucial need to have adequate automobile insurance coverage in the event of a serious accident. Susan Ament educates women on these needs every day in her practice and in seminars that she presents throughout the year.