Love (& Easterseals) Can Keep Us Together
|
By Natalie Scott
Love is not just words said on your wedding day, but how one lives those words out each day. Love is shown in health, but especially in sickness. Emory and Otisia "Tish" did not know 37 years ago when they said those words "in sickness and in health" that sickness would come sooner than they thought.
Though caregiving for Tish, who had her first stroke at 45, has not come without trials, it is Emory's great attitude, support from family and a team of caring professionals at an Easterseals Adult Day program, that has really made a huge impact in how they continue to live their lives.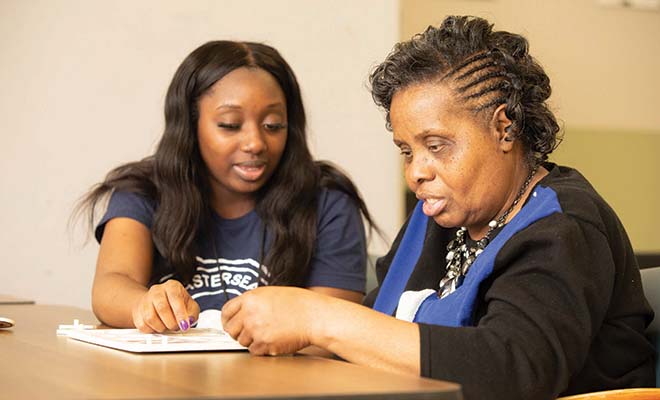 "I don't think I knew what love was until Tish got sick. I had no idea I could handle it. I have to help her with everything," Emory says. "Easterseals has been a lifesaver. The staff takes great care of her. I know it's their job, but they don't treat it like a job. You can see they really care. I am so overwhelmingly grateful. She is well taken care of and safe. I know all of her needs will be addressed."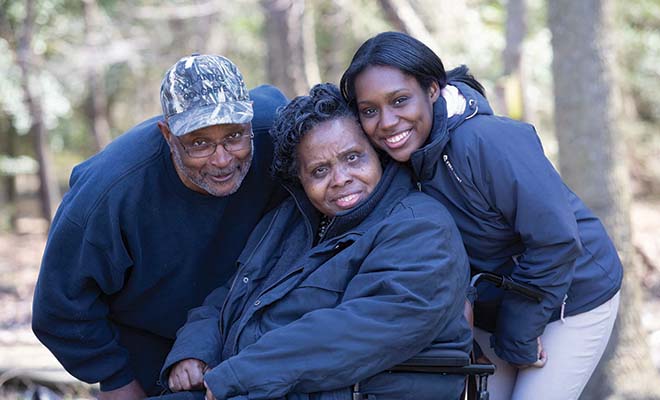 Easterseals adult day services enable Emory to continue to care for Tish at home. It gives him the break he needs to re-energize, take care of his needs, and run errands. Tish attends the program five days a week and enjoys painting, ball toss and parachute exercises. She also enjoys the camaraderie felt amongst the participants and staff in the program.
"As long as I can take care of her, I will take care of her here at home, and thanks to Easterseals I can do that. Our life is not stress free, but it is peaceful," Emory says. "While she is at Easterseals I don't have to be on guard. I can relax, take a nap to catch up on sleep, go shopping or make dinner. I know Easterseals is great for her and truly great for me."
A full-time nurse provides medical support including monitoring of blood pressure and blood sugar, coordinating with physician offices and arranging appointments. The nurse acts as a liaison between participant families, case managers and other health care providers. If needed, physical, occupational and speech therapies also are available on-site through Easterseals, and can be added to the individual's personal care plan. In addition, trained staff are able to help all participants with activities of daily living and personal needs.
"A great attitude goes a long way and that is what Emory has. He has a saying he uses often, "If that's the worst thing that is going to happen today, it is going to be a great day."
Like all Easterseals services, adult day care services are comprehensive and individualized to meet each client's needs, family-focused to meet each family member's concerns and have the goal of enhanced independence. The adult day care program offers a break for family caregivers responsible for a relative who is unable to function independently, but does not require 24-hour nursing care. For more information about Easterseals Adult Day Care Services contact Alexandra Crane at 302-324-4444 or [email protected] 
Nationally, Easterseals is celebrating 100 years of exceptional services for people with disabilities. Easterseals is located at 61 Corporate Circle, New Castle, DE 19720. Please visit their website and see all of the local services for people of all ages and abilities:           www.de.easterseals.com. 
Easterseals Kent County center is located at 100 Enterprise Place, Suite 1, Dover, DE 19904
Easterseals in New Castle County is located at 61 Corporate Circle, New Castle, DE 19720
Please visit our website and see all of our services for people of all ages and abilities: www.de.easterseals.com