Keep Your Loved Ones Safe & Comfortable this Winter
|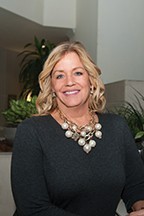 By Robyn S. Mooney, President
CarpeVITA Home Care
Winter is coming and the experts are calling for a cold and snowy one! With falling temperatures, snow, ice, and the prevalence of viruses, along with extra health and safety risks, winter can pose a dilemma for caregivers and families who take care of our seniors. If you haven't already done so, arrange for your relative to get a flu shot. Those over 65, especially if they have chronic illnesses, are at high risk for complications from influenza, which is the fifth leading cause of death among adults in that age group. Flu season typically peaks between January and March. Keeping those we love healthy and safe this winter is so important!
Sometimes our loved ones will refuse to bathe because of the cold. When they become cold it often takes longer for them to warm back up. While family members may be warm, their older loved ones are struggling to stay warm despite the increased temperature in the home. Hypothermia is a risk to seniors even indoors, due to the decreased circulation that tends to accompany aging, as well as to inactivity, illness and some medications. Turn up the temperature in the home before bath time. Place towels over the toilet seat and use plush rugs over tile floors, and always stand by for assistance to make sure they don't fall. Poor circulation can cause our older friends to have difficulty regulating body temperature. Heating pads and layered clothing can help seniors stay warm. Always supervise when applying heat; make sure they are not too hot or placed directly on the skin. Use a good moisturizer and apply it daily. Skin can become especially dry during the winter.
Keep your older loved ones well hydrated. Just because it's cold outside does not mean seniors need less water. The dryness caused by heating systems can lead to dehydration. Check with their doctor, if fluid restrictions are in place. Staying hydrated also helps with poor circulation. Limit alcohol, as it is dehydrating and speeds up body heat loss. Encourage them to eat foods rich in vitamin C, to help ward off viruses and infections.
Dress your loved one warmly, in loose-fitting layers and warm footwear. Look for super-stretch comfort socks, with skid-resistant treads. Ensure your relative has several layers of warm bedding. Keep extra throws in the living room and bedroom, for extra warmth on drafty days and nights.
If your relative lives alone, check on them daily during severe cold weather. If conditions make it unsafe for you to go out, telephone daily. If you live out of town, arrange for a neighbor or a home care professional to make a daily visit. Make a list of local businesses that offer delivery service, including grocery stores and pharmacies, so they don't feel the need to venture out.
Every family is different, so do what works best for your family. 
At CarpeVITA Home Care we train our aides to be attentive to our clients' needs and safety. We want our clients to feel comfortable and safe in their homes. If you need some extra help this winter, call us for more information on how we can help. 
Bio
CarpeVITA Home Care is a non-medical in-home care agency founded by Robyn Mooney in 2010 out of a need she saw with her own family and friends. She decided to build a home care agency that would provide the same quality of care she had provided for them. Robyn has built a high caliber, dedicated team of professionals and insists on upholding the standards of compassion, respect and kindness. At CarpeVITA Home Care, we treat your family members as if they were our own. We are not a franchise; we are a woman run and locally operated home care agency. CarpeVITA can provide services to all ages in Southeastern Pennsylvania, as well as New Castle and Kent Counties in Delaware, because anyone could use a little helping hand sometimes. We do not require a minimum number of hours per shift, day or week. At CarpeVITA Home Care, flexibility is the cornerstone of our business.
Testimonial
"Dear CarpeVITA Home Care, I just want to thank you so much for helping us when we were so lost. The wonderful ladies who appeared like magic were so caring, so helpful, so needed. You really made an awful time just enough to get through. God Bless you."  ~P.R.
Call us at 302-482-4305 or visit www.carpevitahomecare.com
Enjoy LIFE!!! Leave the Care to Us.