James H. Gilliam, Jr. Award Recipient
|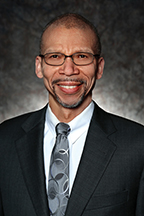 The American Heart Association is pleased to announce the 2020 James H. Gilliam, Jr. Award will be presented to Dr. Ray Blackwell at the Wilmington Heart Ball on Saturday, February 22, 2020. 
Dr. Ray Blackwell is a graduate of Dartmouth College (1980) and Geisel School of Medicine (1987) and Delaware Law School Widener University (2019). He is currently the Chief of Cardiac Surgery and Surgical Director of the Mechanical Circulatory Support Program at Christiana Care Health Services in Newark, Delaware.
Dr. Blackwell has dedicated his life to service of others. As a medical student, he served on the Minority Admissions Subcommittee and later became a regional recruiter for Dartmouth College and Dartmouth Medical School. He was a student in A Better Chance Program in Glastonbury, Connecticut and is active with the organization. A Better Chance is a program which places underprivileged and underrepresented students in better academic environments. He is a Regional Alumni Council member of National Medical Fellowships which provides scholarships for underrepresented and underfunded medical students. He is cofounder of  the Association of Black Cardiovascular and Thoracic Surgeons whose mission is to support and develop upcoming and practicing cardiothoracic surgeons. Dr. Blackwell has provided many mentoring opportunities for local and regional underrepresented college and medical school students. He has served as co-chair of the Christian Care Diversity and Inclusion and Health Equity Committees and has resided as chairperson of the Blood Pressure Ambassadors Program since its inception. The Blood Pressure Ambassadors Program addresses hypertension in the African American community through the use of community ambassadors. 
To date, over 12,000 lives have been touched. Dr. Blackwell is active with Gamma Theta Lambda Chapter of Alpha Phi Alpha Fraternity, Inc. having initially joined through Theta Zeta Chapter at Dartmouth College. Dr. Blackwell is a past member of the Delaware Board of Medical Licensure and Discipline. He is currently a trustee of Christiana Care Health System, and on the Board of Directors for the local New Castle County and the regional Eastern States chapters of the American Heart Association. Dr. Blackwell is an avid athlete, having competed in track and field on a national and international level. At one point, he held 6 American and World Age group records. He plans to return to track and field competition and is training for his first sprint triathlon. His hobbies include photography, genealogy, history, aviation and motorsports. He is married to Dr. Wanda L. Francis-Blackwell. They have three daughters- Arielle, Ashley and Asia. 
Please join Claire DeMatteis, Esq. and the Heart Ball Executive Leadership Team at the upcoming Wilmington Heart Ball on Saturday, February 22, 2020, at the Chase on the Riverfront from 6:00 pm – 11:00 pm. Sponsorships and volunteer opportunities are still available. Please contact Denise Griffin at 302-286-5704 or [email protected] or visit the website at www.heart.org/wilmingtonheartball
6:00 pm Cocktail Reception
7:30 pm Ballroom Opens
8:00 pm Seated dinner, program and dancing to The Heartbeats
Open Your Heart Appeal