It is Never Too Late
|
A more beautiful and healthy smile could be just months away
By Anna Giacalone, D.M.D.
Many people still feel orthodontic treatment, (traditional braces and clear aligners), are for adolescents. Not true. Many adults benefit from having their teeth moved to a more ideal position.
Straighter teeth don't just look better, they work better too. Poorly aligned teeth can interfere with bite function, wear out quicker, and are more prone to cavities and gum disease.
The most common procedure I perform in adult patients is eliminating crowding of the lower front teeth. The natural movement of these teeth is to the front of the mouth. It is thought that this is to compensate for the natural wear between teeth throughout life. When teeth are ideally aligned the movement is not perceptible. If a tooth is out of position, however, the forward movement allows teeth to slip past each other, progressively becoming more crowded. Many adults with crowded front teeth had braces in their youth and "relapsed". We now know much more about the forces that will cause relapse and how to protect against them.
Another relatively simple correction is to upright tipped teeth. The uprighting allows better cleaning of the formerly tipped tooth and delivers the forces of biting down the long axis of the tooth which is how the natural shock absorbing system of ligaments works best. Many times teeth are tipped because the tooth next to them was removed or congenitally missing. The tooth next to the space tips into the void. Uprighting allows us to place an appropriate replacement for the missing tooth.
We use orthodontic tooth movement to enhance our cosmetic and functional outcomes. When teeth are too narrow for the arch they occupy, spaces occur. A large space between the upper front teeth is a common occurrence. Sometimes moving the teeth just a little allows the restorative dentist the opportunity to widen many teeth just a little, achieving a more pleasing result than making  just a few teeth unnaturally wide. Orthodontic movement permits a superior result over bonding or veneer placement alone!
I use a variety of methods to correct tooth position, be it crowding, spacing, tipped or rotated teeth.  I use traditional braces as well as clear aligners. By the way even braces are smaller and less visible than those used years ago.) Most of our patients prefer Clear Correct®, the clear and simple alternative to braces. It's a series of clear, custom-made removable aligners that gradually straighten your teeth as you wear them, each aligner moving your teeth just a little bit at a time. No wires, no brackets, just clear, convenient comfort.
The aligner shown here is nearly invisible and so thin it is easy to wear. Some of the patients who have worn these retainers to straighten their teeth are teachers, lawyers, lecturers, and even speech pathologists. Wearing the aligners did not interfere with their everyday activities. Their spouse, co-workers and friends did not even know they were having orthodontic treatment.
We are happy to offer financing and submit to insurance to make this type of treatment possible for our patients.
Orthodontics is not just for kids anymore!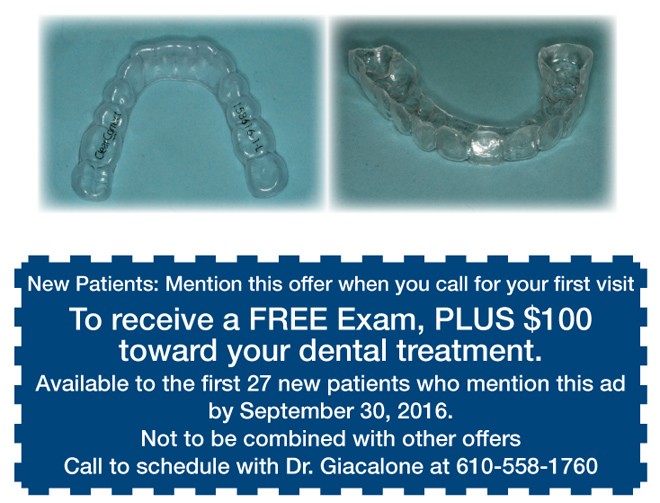 Testimonials
"Have had significant dental and cosmetic work done by Dr. G. and she truly is an artist." Excellent skills, combined with a personable, focused, and caring manner will keep us using Dr. G. for a long, long, time."               -Tiffany V.
"Dr. Giacalone has given me a new smile! I've wanted to do this for so long but had so many bad experiences with dentists I hesitated for over a year. Now I wish I had done it sooner! The constant care and concern for my comfort was incredible. She and Debbie make a great team and I could not be happier with the outcome. I highly recommend Dr. Giacalone and everyone in her office. Friendly, caring, and professional."
– Shirley G.
Anna C. Giacalone, DMD, MAGD
Master of the Academy of General Dentistry
Education:
BS. Biology Chestnut Hill College
DMD. University of Pennsylvania School of Dental Medicine
Certificate and Internship: Comprehensive Orthodontic Institute
Certificate: prestigious Dawson Academy of Advanced Study
Awards:
Pennsylvania Dental Association Award for Excellence during the four years of dental school
Top Cosmetic Dentist Main Line 2007, 2011, 2012, 2013, 2014, 2015, 2016 (chosen by peers)
Top Dentist in Delaware Valley, 2008; Delaware Valley Consumer Checkbook (chosen by patients)
America's Top Dentists 2010, 2011, 2012, 2013, 2014, 2015, 2016; Consumer Research Counsel
Mastership in the Academy of General Dentistry 2013
To learn more visit her web site: www.giacalonedmd.com