Invisalign + Chairside Veneers = Successful Cosmetic Result
|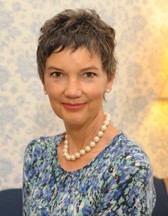 By Anna Marie Mazoch, D.D.S.
Craig didn't come to our office because he was concerned about the look of his teeth. He came because his wife complained about his "rabbit teeth". Like many husbands, he was unbothered with his looks. Like many wives, his appearance, for her, was a source
of contention.
It wasn't that Craig's parents didn't provide him with good dental care when he was younger. He had regular checkups and fillings and even braces as a teen. Unfortunately, however, due to the extraction of two upper back teeth for the braces, his two front teeth were tipped backwards to help close up the spaces. Years later, his front two teeth were in a straight up and down position and the lateral teeth were rotated. The result is the appearance of two very long front teeth and two very short lateral teeth; in other words, a rabbit.
Our first step was to straighten the front upper and lower teeth using Invisalign clear retainers. Four months later he was ready for chairside veneers of the laterals. Chairside veneers are placed using tooth colored filling material; it is patted into place and shaped by the dentist to the form, color and size desired. The chairside veneers (i.e., bonding) are a good substitute for porcelain veneers when the length and width of the teeth need to be changed. If a change in shade or a large difference in the shape of the tooth is necessary, then porcelain veneers are usually preferred.
Craig is nearly 50 years old now and his new teeth have made him more aware of his appearance and his health, much to his wife's delight. He has started to exercise regularly and is watching his diet. He is a new man.
We can't guarantee that you will be motivated to lose weight and become"buff". But, we can guarantee that we can make your smile more beautiful.
Craig's Testimonial:
Here's what Craig has to say about his new smile: "After my wife kept telling me that I had rabbit teeth,
I knew I had to do something. I did not realize how my front teeth had shifted and appeared longer than my other teeth. I thought to myself, how could this happen after having braces for 2 years in my late teens.  I also thought to myself, there must be an alternative to the traditional brackets and wires.  Then I remembered that a friend of mine tried Invisalign, and her teeth looked fantastic once she was finished with her treatment.  I decided to make an appointment with Dr. Mazoch.
It was really cool because once the Dr. took an impression of my teeth, she was able to show me the computer graphics of my treatment plan.  I could see exactly how my teeth would be straightened over time.  During my treatment plan visits, she took photos of my actual teeth and we could view those on the computer and see how they were getting straighter.  Technology has come a long way! Now when I look in the mirror, I see straight teeth…no more rabbit teeth!  P.S.
I no longer just look at my hair in the mirror, now I look at my straight teeth! And now my wife calls me handsome every time I flash my smile at her!"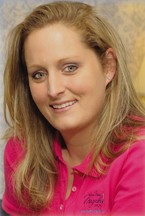 Bonnie Foster is a Delaware native, residing in the Newark area for most of her life. Bonnie always felt she wanted to have a career in the health care industry.  During her visits to the dentist as a child and young adult Bonnie discovered she wanted to become a Dental Hygienist. Soon after graduating high school in 1997, Bonnie started as a dental assistant to gain experience and knowledge of the dental field. She continued working as an assistant while attending Delaware Technical Community College for Dental Hygiene. Bonnie graduated with honors from the Dental Hygiene program receiving an Associate degree in Applied Science.  
  Bonnie has been with us for a year now and provides great care to each patient according to their individual needs. She is committed to making each visit comfortable and educational for her patients.  Bonnie feels that her experience in our office has helped her to grow as a person and a hygienist.
In her free moments, Bonnie loves to spend quality time with her son, Dylan, who is 10 years old. They enjoy going to the movies, sledding in the winter and visiting the beach in the summer.  She is also an active supporter of breast cancer research since her mother and grandmother
are both survivors. 
We are so happy with Bonnie's superior treatment and care for her patients.  Make an appointment with her today to see for yourself!
 _________________________
Dr. Anna Marie Mazoch received her B.S. degree in Biology, summa cum laude, from Ohio University and her D.D.S. from Northwestern University. She is a member of the American Dental Association, the Delaware State Dental Society and several local dental study clubs. She has been practicing general dentistry for 32 years, first in Cincinnati, then Montpelier, Vermont, and the past 14 years in Delaware. Her keen interest in continuing education for herself and her staff stems from a quote by G. V. Black, the first dean of Northwestern University Dental School and the father of modern dentistry: "The professional (wo)man has no right to be other than a continuous student".
2601 Annand Dr., Suite 18, Wilmington, DE 19808
We are conveniently located near the corner of Kirkwood Hwy and Milltown Rd, near Pike Creek and Milltown shopping center.
Email  [email protected]
Visit us on facebook
Phone: 302-998-9594
Fax: 302-998-8207