Women Choose Wisely
|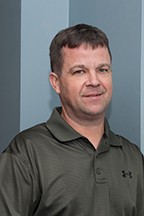 By Brent Logullo, Owner 
"I have taken a few of my cars here in the past. It has always been a great experience. Just picked up a car yesterday and really appreciate the personal attention I got with the owner, as well as the other mechanics. Would highly recommend this body shop." – Marie Danz
"This is the only body shop that touches any of my vehicles. Brent and the guys over there will repair your vehicle to a condition that will supersede the OEM fit and finish. They also work directly with the insurance companies and rental car businesses for a seamless transaction from start to finish. I tell everyone I know to take their car over to Brent when the unfortunate happens!" – Bradley Owens
Why women make the decisions –
Most women outlive their husbands, they make the important phone calls during the day, run errands, pay bills, and get the kids off to school. With all these tasks set out to be done, you may be persuaded to do what's convenient to save time. Now, when it comes to picking an auto body shop, picking what's convenient is not always the best way to go. Looking up reviews, talking to friends or even calling your local mechanic are just some of the ways you can use to determine the proper repair shop to take your vehicle to. Dealerships are good with getting repairs completed but you have to be aware that just because you take it to the dealership doesn't mean they will put the original parts back on to your vehicle. Dealerships will repair your car under the guidelines of what your insurance policy says. When you sign on to an insurance policy, there are some underlining things included, that you don't become aware of until it's time to get repairs. Your insurance agent is the person who would be able to help you choose a policy that fits your needs in case you ever were to have something happen to the vehicle. Listening to your agent and coming up with a preplanned scenario, is the best thing you can do for yourself, and the vehicle.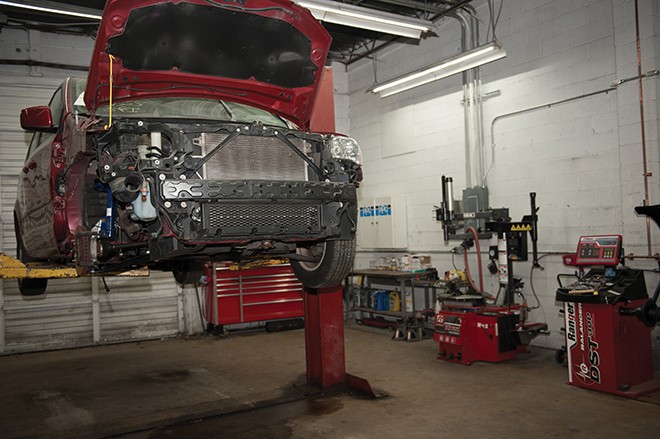 Preparing an insurance policy –
When you insure your vehicle through an insurance company, you are put in a database where your policy can be accessed if needed by another insurance company when they are at fault. If your policy states that your vehicle gets all original parts reinstalled, then the insurance at fault must repair your vehicle to no less than how you are insured through your own policy. The first thing everyone shops for is the lowest rate, which is a good idea until you are involved in an accident. There are several ways to lower your premium rates. Cutting out the rental car option helps if you have a spare vehicle to use, also setting a high deductible on collision, comprehensive and liability. All these things will lower the cost of your insurance policy, but could hurt the repairs because you weren't aware of all the underlining ways you were saving on the policy. When speaking to a insurance agent be sure to ask:
"What happens when I wreck my vehicle?" 
"What type of parts will be reinstalled on my vehicle?" 
"What happens if I have an issue with some repairs that were done under this policy?"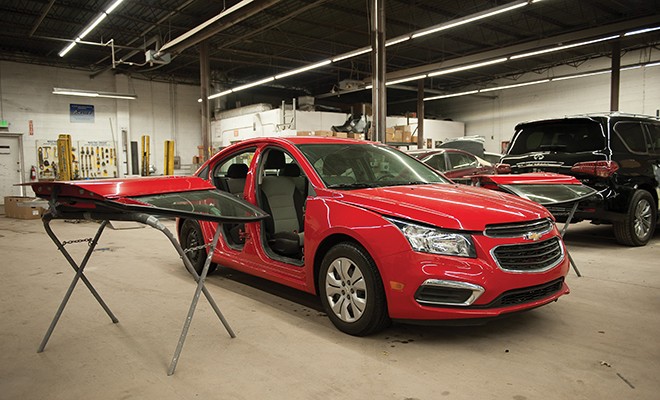 Collision vs. comprehensive – 
A lot of people are afraid to use their insurance and risk their policy premium being raised. Insurance premiums do get raised under collision, but are looked at differently under comprehensive. Comprehensive insurance claims are simply something that happens to your vehicle that you had no control over such as any act of mother nature, hitting a deer, vandalism, and stone chips damaging a windshield. You would be surprised how many people are afraid to put in a claim through their insurance not knowing it's covered under comprehensive. If you are often a victim of this, you should consider lowering your comprehensive deductible to zero. When repairs are done to a vehicle under a comprehensive claim, your premium can be raised but at a lower percentage than collision.
Drivable vs. non-drivable –
If there is damage to your car and it is drivable, please take it to more than just one auto body shop to have it looked at. Most insurance companies will refer you to a body shop they have a direct repair program with, but that does NOT mean you have to choose that body shop for repairs. It's always good to get more than one opinion on what needs to be done for the vehicle to be repaired properly. The dollar amount of the repairs is not as important as getting the repairs done correctly, so that you won't have to take your vehicle back for those repairs to be redone. Ask certain questions such as:
"Is there a warranty on the repairs?"
"Where do they tend to order parts from?"
"Is the repair equipment used in the shop up-to-date?" 
Just to insure yourself that the vehicle will be repaired correctly and that there is a lifetime warranty. Taking shortcuts to get the work done faster or cheaper only causes problems for the vehicle and the body shop. Everyone makes mistakes but cutting corners on repairs is unacceptable.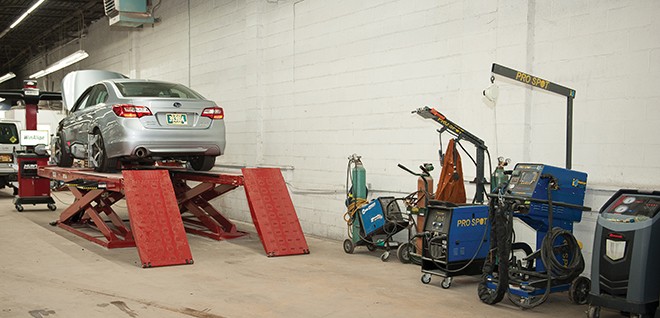 Brandywine Body Shop
1325 Newport Gap Pike
Wilmington, DE 19804
(302)-998-0424