Improve The Look Of Your Neck Without Traditional Surgery
|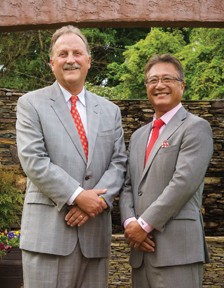 By Dr. Gary Wingate & Dr. Paul Kim
Time, convenience, and effectiveness are factors in a person's everyday decisions. With the advancement of medical technology, patients are able to get the look they desire faster and with less downtime. The physicians at Plastic & Reconstructive Surgery of Chester County are proud to incorporate innovative technologies with traditional procedures to achieve the natural results patients want.
Incorporating traditional and modern
Dr. Paul Kim, board-certified plastic surgeon, has developed and modified traditional facelift and necklift procedures with the incorporation of new laser technology. This allows for faster recovery, less pain, and smaller incisions. An additional benefit is that this new procedure is performed under local anesthesia while awake. Not only is recovery faster but patients also get a tremendous financial savings since they do not have additional anesthesia or hospital costs.
Dr. Kim and Dr. Wingate have perfected this technique with consistent results. Patients are always amazed how the new procedure, which only takes an hour while awake, makes such a difference.
Precision Tx laser
Drs. Kim and Wingate use the Precision Tx laser from Cynosure in their innovative necklift procedure. This laser is used to give patients a more defined neck and jawline without surgery. The revolutionary procedure enhances and revitalizes the lower face and neck. In just an hour's time, this is a one time treatment done right in the office. After numbing the treatment area, the doctor makes tiny incisions to fit a very small cannula with a laser fiber the size of a pen tip underneath the skin. Thermally controlled laser energy is then delivered to the treatment area removing fat and stimulating collagen production in the dermis. The end result is improved skin elasticity, thickness, and texture and less excess, sagging skin.
Along with the TX procedure, portions of other traditional procedures are modified individually for each patient's needs and performed at the same time. This gives great results, faster recovery, less pain, and costs less than traditional methods.
We have a number of procedures designed to improve the appearance of your neck. Whether you have excess skin, sagging skin, or a double chin, we can customize a treatment plan just for you. Turn back the hands of time with the help of Dr. Kim and Dr. Wingate. 610-524-8244
Testimonials
"Dr. Kim performed the latest and greatest necklift procedure using the Precision Tx laser in conjunction with his newest technique. My neck looks amazing! In office procedure, no anesthesia, and done within two hours! I highly recommend Dr. Kim."
"I cannot say enough about Dr. Kim and this wonderful staff in the Exton, PA office. I had laser liposuction performed on my double chin. It was the BEST decision I could have made to have the procedure done, in addition to having Dr. Kim perform the procedure. He and his staff took EXCELLENT care of me throughout the entire process and I am thrilled with the outcome. I highly recommend Dr. Kim as you cannot do better in a plastic surgeon!"
"Approximately 6 months ago Dr. Wingate gave me Precision TX treatment. As a 62 year old professional, I was apprehensive about having any work done. Dr. Wingate and his staff put me at ease and treated me with great professionalism, courtesy, and privacy. I am very happy with the results and quality of care I received from Dr. Wingate. The treatment makes a big difference in my appearance, taking years off my face and neck. My wife, who is an OR nurse, gave Dr. Wingate the highest recommendation, and now I know why."
About Dr. Paul Kim
Dr. Paul Kim, a graduate of Columbia University, completed his medical training at the University of Massachusetts. After completing his residency in Plastic Surgery at Northwestern, he went on to complete a fellowship in Microvascular Surgery and Replantation at the Microsurgery Unit of St. Vincent's Hospital in Australia.
About Dr. Gary Wingate
Dr. Gary Wingate is a graduate of the University of Utah. He completed both his medical school training and his residency in Plastic Surgery at Northwestern.
Plastic & Reconstructive Surgery of Chester County
460 Creamery Way, Suite 110
Exton, PA 19341
Doctors' headshot by Shannon Adelson of Adelson Media, Inc.